Cambodia and Thailand Join Hands on Cross-Border Tourism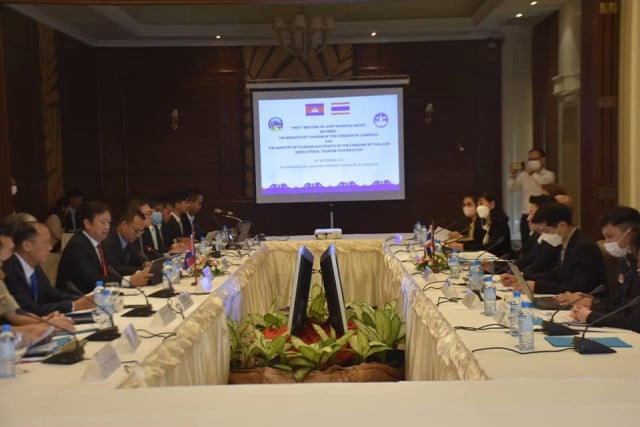 PHNOM PENH – Cambodia and Thailand have agreed on an 11-action plan for the period 2023-2025, to promote cross-border tourism between the two countries.
While the COVID-19 pandemic has had tremendous impacts on their respective tourism industry, the two neighboring countries are laying the groundwork for collaboration to boost tourism thanks to visitor packages, flight and border checkpoints facilitation, joint investments, and concerted promotion and marketing.
The plan was agreed upon at a meeting on bilateral tourism held in Koh Kong on Sept. 2. The meeting was co-chaired by Thok Sokhom, undersecretary of state at the Tourism Ministry, and Mongkon Wimonrat, Deputy Secretary General of the Thai Ministry of Tourism and Sports.
Both countries will prepare a joint tourism product under a campaign named "Two Kingdoms, One Destination".
They agreed to encourage direct flights at all top tourist destinations and facilitate travel through international checkpoints. The plan also focuses on promoting theme-based tourism, with a focus on food, health, Buddhism, cruises, or cross-border "self-driving tours" from either side of the frontier.
They also plan to set up a cruise ship that would dock at the upcoming international tourist port in Kampot province, which is currently under construction.
Cambodia and Thailand will also promote visits from tourism experts, to better expose the industry opportunities to professionals in the sector. Such visits will take place under the framework of the
ASEAN Tourism Professionals Agreement (ASEAN MRA-TP), a pilot project aimed at sharing experiences among ASEAN member states.
In addition, Thailand has agreed to support additional tourism skills training for Cambodian workers from the tourism and hospitality industry. Such training is set to be held in Thailand and covered by the Thai government.
The two sides will co-organize tourism investment forums and arrange "familiarization trips" – which are labeled as "FAM-trips" – for private sector actors in both countries, to encourage cross-border investments.
The Thai side will promote the 2023 Southeast Asian Games, which will be held in Cambodia in May next year.
Thailand will share with Cambodia its experience in setting up the Tourism Satellite Accounts, an internationally recognized statistical framework that helps estimate the economic outcomes of the tourism industry.
Finally, the Thai side considered Cambodia's request to launch a common tourism secretariat between what is called ACMECS countries. Such an acronym stands for Ayeyarwady-Chao Phraya-Mekong Economic Cooperation and comprises Myanmar, Thailand, Laos, Vietnam, and Cambodia.
Try Chhiv, director of the Department of International Cooperation and ASEAN Department at the Tourism Ministry, specified that the cooperation with Thailand on tourism is nothing new. Over the last two years, the two countries shared information and experience on how to deal with the COVID-19 pandemic.
Chhay Sivlin, president of the Cambodia Association of Travel Agents (CATA) sees this further collaboration with Thailand in a positive light.
In her opinion, one of Cambodia's main issues is the lack of direct flights to many countries with high tourism potential. Visitors from the European Union and North America come first as most of them must transit through Thailand before stepping foot in Cambodia.
"I fully support the 'Two Kingdoms, One Destination' mechanism because visitors to Thailand might also want to visit Cambodia. It will be to our advantage to start this joined promotion with our neighbor," Sivlin said, adding that both countries' economies would grow from developing tourism.


"We have the opportunity to give and receive visitors to one another, which is mutually beneficial to all levels of the economy. Tour operators will benefit through transportation, accommodation, or food, while street vendors will also increase their sales in top tourism destinations," Sivlin said.
Nevertheless, CATA's president recommends to the actors in the Cambodian tourism industry to increase the quality of service. "The best quality we provide, the easiest it becomes to partner with neighboring countries," she said.
Related Articles