Cambodia and the United Arab Emirates Seal a Comprehensive Trade Agreement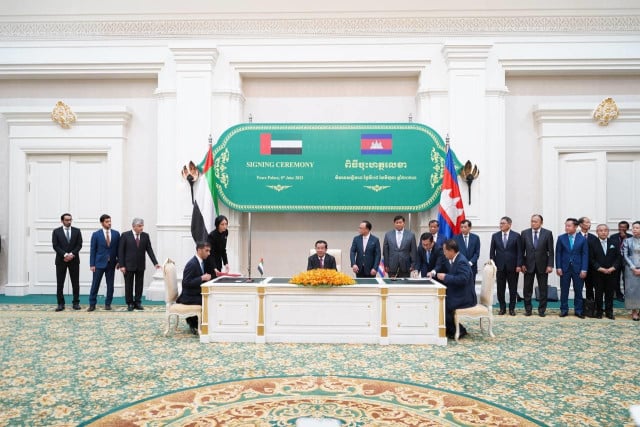 PHNOM PENH – The United Arab Emirates (UAE) and Cambodia have concluded a trade partnership agreement on June 8.
The Comprehensive Economic Partnership Agreement (CEPA) is expected to bring the two economies and peoples closer together, promoting bilateral cooperation in existing potential areas, and providing investment and trade opportunities for the two countries, ministry said.
The agreement was signed by Minister of Commerce Pan Sorasak and Thani bin Ahmed Al Zeyoudi, UAE's minister of state for foreign trade.
Ministry of Commerce spokesman Penn Sovichea said that the next step will be for the ministry to submit the draft of the agreement to the National Assembly and Senate for approval and to King Norodom Sihamoni to sign into law.
Following this, the CEPA will be effective within 60 days after the Cambodian government has officially notified the United Arab Emirates, Sovichea said.
According to the Ministry of Commerce, this agreement will contribute to strengthening relations between the two countries, open market channels more widely, provide investment opportunities for the benefit of both countries as well as to increase cooperation in various economic sectors.
The agreement covers trade in goods, rules of origin, customs procedures and trade facilitation, sanitary and phytosanitary measures, trade barriers, trade in services, digital trade, intellectual property, economic and trade cooperation, small and medium-size enterprises, and dispute resolution mechanisms.
Before the signing of the agreement, the two countries' working groups held three rounds of formal negotiations. The first one was held on Oct. 24 through 26, 2022 in Abu Dhabi, the second one in Dec. 19 through 21, 2022 in Phnom Penh, and the last one in Feb. 20 through 22, 2023, in Dubai.
The CEPA is the third bilateral free trade agreement concluded by Cambodia in recent years as the Cambodia-China Free Trade Agreement (CCFTA) entered into force on Jan. 1, 2022, and the Cambodia-Korea Free Trade Agreement (CKFTA) on December 1, 2022.
In 2022, UAE-Cambodia non-oil trade exceeded $400 million, which represented an increase of 31 percent compared to 2021 and 146 percent more than during the pre-COVID year of 2019.
Related Articles