Cambodia Announces Postponement of ASEM to Mid 2021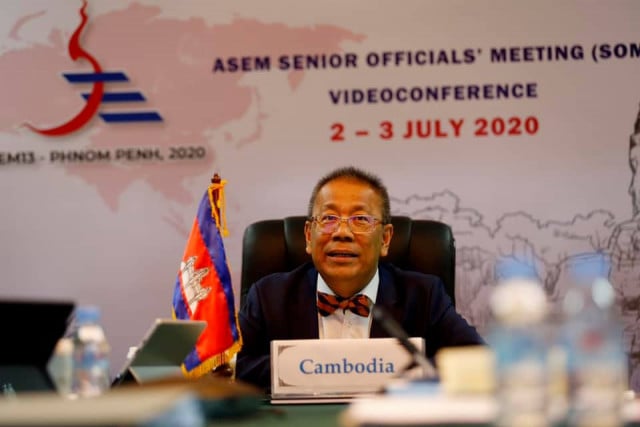 The event to be attended by 53 countries is being delayed due to the pandemic

PHMO PENH--Cambodia officially has postponed to next year the 13th Asia Europe Summit (ASEM), which was scheduled for Nov. 16 and 17, due to the Novel Coronavirus (COVID-19).

The decision was made during the ASEM Senior Officials' Meeting (SOM), which took place via videoconference on July 2 and 3 and was chaired by Sok Siphana, senior advisor to the Cambodian government and ASEM senior official for Cambodia, according to a Foreign Ministry's statement released on July 4.

"Due to COVID-19, however, all ASEM SOM Leaders unanimously expressed their understanding of and support for Cambodia's request to postpone ASEM 13 to mid-2021," the statement read.

During the meeting, the ASEM officials also discussed the pandemic that requires all parties, they said, "to promote effective multilateralism and collective response to the COVID-19 pandemic" that has driven a depressing global health crisis and economic fallouts.

ASEM, which was founded in 1996, has 53 partners comprising 21 Asian countries, 30 European countries as well as the Association of Southeast Asian Nations (ASEAN) Secretariat and the European Commission. These partners represent up to 65 percent of the global economy, 60 percent of the world's population, 55 percent of the world trade and 75 percent of the world tourism.

The decision to defer the meeting to mid-2021 was approved after Prime Minister Hun Sen in late March signaled that Cambodia, as the host, would look into a possible postponement of the high-profile event if the pandemic was not effectively and completely defeated in time.

Despite the fact that Cambodia has reported no local case since May as all new infections have only involved people returning from foreign countries, many preventive measures still remain in place including school closure while local authorities keep warning the population of the risk of a second wave of infection. In the meantime, many countries across the globe are still locked in battle against the coronavirus.

According to the Johns Hopkins University's Center for Systems Science and Engineering, over 11 million cases of COVID-19 have been confirmed globally while the death toll stands at 530,000 as of Sunday (July 5).
Related Articles