Cambodia burns 2.36 tons of drugs, illegal substances on anti-drug day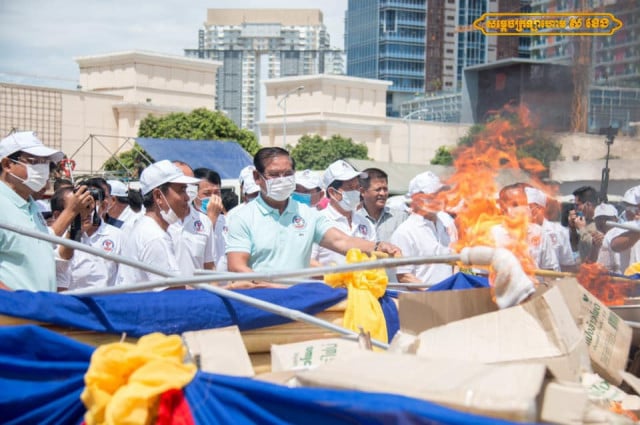 Xinhua
June 27, 2019 4:41 AM
PHNOM PENH-- Cambodia burned down 2.36 tons of drugs and illegal substances on Wednesday to mark the International Day against Drug, officials said.
Deputy Prime Minister and Interior Minister Sar Kheng set fire on the drugs at a ceremony held at the Diamond Island in Phnom Penh.

Phnom Penh Municipal Court's Prosecutor Keo Sothea said at the event that the burned drugs included 420 kg of illicit drugs and 1.94 tons of illegal substances and ingredients used for drug manufacturing.
He said the drugs were seized from criminals between June 2017 and June 2018.
Meas Vyrith, the secretary-general of the National Authority for Combating Drugs, said the burning of the drugs showed the government's strong commitment to fighting against all types of illicit drugs.
"The burned drugs include heroin, methamphetamine, amphetamine, ecstasy and ketamine, among others," he said.
Vyrith said during the January-May period of this year, the authorities had arrested 7,097 drug suspects in 3,335 cases and confiscated about 310 kg of drugs.
It is estimated that Cambodia had about 20,000 drug addicts as of 2018, and 8,399 of them had received drug quit treatment, he said.
Related Articles