Cambodia Calls For Inclusive Business Efforts to Promote Equality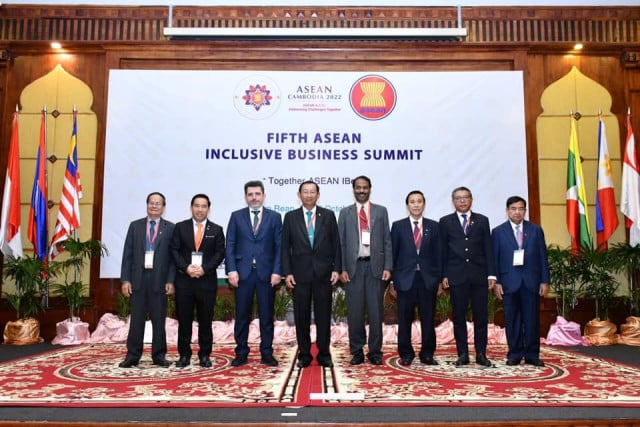 PHNOM PENH – Cambodia has called on all business bodies and relevant stakeholders to join ASEAN and Cambodia in promoting inclusive businesses to have a far-reaching impact on reducing poverty and promoting equality in the region and the world.
"We have identified Inclusive Business (IB) as one of the most rewarding ways to complement our endeavor to reduce poverty at scale in a very systemic way, with qualitative impact able to reach more women, youth income, and employment for the economic advancement on the basis of business circularity, green mind, and innovation," said Minister of Industry, Science, Technology and Innovation Cham Prasidh during the Fifth ASEAN Inclusive Business Summit on Oct. 26.
Under Cambodia's ASEAN Chairmanship 2022, the summit was focusing on inclusive businesses, with the motto, "Together ASEAN IBee", where IBee stood for "Inclusive Business enabling environment". The event was held on Oct. 26 and 27 in Siem Reap province.
Inclusive Businesses refer to companies that hire vulnerable workers to create affordable goods and services benefiting their own communities. They reach two different goals: being profitable and financially viable in the long term and improving communities' lives by providing them with both jobs and new products or services.
Speaking at the summit, Prasidh pointed out that approximately 62 percent of the world's population survives on less than $10 per day, which represents approximately 5 billion people living in poverty.
"The current COVID-19 pandemic and the war in Ukraine have increased pressure on this vulnerable population, sending even more people in financial distress," he said.
"While being the poorest socio-economic group in every society, they also constitute a staggering market opportunity if we're able to improve their purchasing power and their transaction capacity (credit, infrastructure, distribution systems, and other institutional frameworks) and provide them with appropriate goods and services. Otherwise, poor people are doomed to be locked in poverty."
Prasidh added that inclusive businesses have a huge social impact, thus, they benefit the government, the poor, and the business sector.
He called on all business associations, business facilitators, investors, development partners, and relevant stakeholders to join forces with ASEAN and Cambodia to support inclusive business to disseminate positive effects throughout the region and the world.
A total of 18 inclusive businesses in Cambodia
In 2021, 18 companies were identified as inclusive businesses in the country, in economic sectors ranging from energy to housing, agriculture, supply chain, or handicrafts. While they directly hire several hundreds of people, it has been estimated that their impact on society benefits 1.7 million Cambodians.
Armida Salsiah Alisjahbana, executive secretary of the United Nations Economic and Social Commission for Asia and the Pacific (ESCAP), said the private sector, in addition to government action, is essential to fostering economic recovery for a more sustainable, inclusive, and resilient future.
"In this regard, innovative business models such as inclusive businesses are emerging, and demonstrating that it is possible to provide goods, services, and livelihoods - on a commercially viable basis - to people often overlooked by pure profit-orientated businesses," said Alisjahbana.
Christian Jahn, executive director of the Inclusive Business Action Network, said since the leaders in ASEAN urged to develop enabling environments in 2017, ASEAN has been regarded internationally as a pioneer and inspiration for supporting inclusive business.
The first South-South exchange on IB in 2019 contributed to the beginning of IB policy development programs in sub-Saharan Africa.
"At this year's ASEAN IB Summit, policymakers from Nigeria, Zambia and India will share and discuss progress with their ASEAN peers. This dialogue manifests, that IB promotion is gaining momentum worldwide contributing towards a global socio-ecological market transformation," Jahn said during the summit.
John Samuel, OXFAM's Asia regional director said companies can play a critical role in reducing poverty and enabling access to shared resources for people at the bottom of the pyramid, particularly women, who make up the majority of the informal labor force in agricultural value chains, by shifting to inclusive business practices.
"Micro, Small and Medium Entreprises, which represent 88.8 percent to 99.9 percent of the total enterprises in the ASEAN and between 51.7 percent to 97.2 percent of the total employment, should be enabled in adopting and promoting inclusive business practices in the region by providing them with incentives to do so," Samuel said.
The 5th ASEAN Inclusive Business Summit was organized by the Ministry of Industry, Science, Technology & Innovation of Cambodia (MISTI) in cooperation with the ASEAN Secretariat; ESCAP; iBAN, a global program funded by the German Federal Ministry for Economic Cooperation and Development and implemented by GIZ; OECD; and OXFAM.
Related Articles