Cambodia Celebrates 67th Independence Day as COVID-19 Restrictions are Reapplied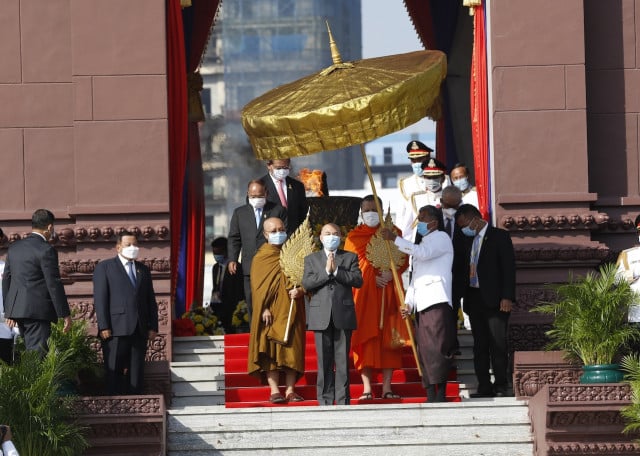 Torn Chanritheara
November 9, 2020 3:15 AM
While Prime Minister Hun Sen was notably absent, Independence Day celebrations went ahead with enhanced precautionary measures in place due to the COVID-19 pandemic.
PHNOM PENH--Cambodia on Nov. 9, 2020 celebrated its 67th Independence Day, although the anniversary was somewhat marred by the ongoing COVID-19 pandemic.
King Norodom Sihamoni presided over the ceremony and lit the victory torch at Independence Monument in Phnom Penh to kick off one of the most important events in the national calendar.
Thousands of government officials, members of the armed forces, diplomatic envoys and students turned out to join the celebrations, although notably absent was Prime Minister Hun Sen who is currently in quarantine after being exposed to COVID-19. Hun Sen has apologized to the King for his absence.
On Nov. 3, Hun Sen met with Hungarian Foreign Minister Péter Szijjártó who tested positive for the virus the following day.
Following Szijjártó's one-day diplomatic tour of Cambodia, where official protocols appear to have been flouted to accommodate the Hungarian official, hundreds of government officials who came into contact with Szijjártó have since been forced to self-isolate and monitor their health.
While officials were quick to announce that Hun Sen and other senior government figures had initially tested negative for COVID-19, one bodyguard who had worked with the Hungarian foreign minister tested positive for the virus on Nov. 9.
Almost 900 people have been tested after coming into either direct or indirect contact with Szijjártó, schools in Phnom Penh and Kandal Province have been closed, along with KTVs, cinemas and museums as Cambodia rapidly attempts to contain the virus.
Nevertheless, Independence Day celebrations went ahead, with President of the Senate Say Chhum, President of the National Assembly Heng Samrin and Deputy Prime Minister Sar Kheng appearing to lead the government's delegation at the event.
Participants were seen wearing masks as precautious measure as COVID-19 appeared to be a concern again following the visit of Hungarian diplomat.
The annual event, which also marks the birth of the Royal Cambodian Armed Forces, is seen as a credit to the efforts of former King Norodom Sihanouk in reclaiming Cambodia's independence from France who ruled the country for some 90 years.
In the 1950s, King Sihanouk lobbied for independence as the country was under French rule and part of Indochina along with what is now Vietnam and Lao PDR. He proclaimed Cambodia's independence on Nov. 9, 1953 and remained the country's political leader until 1970 when he was ousted from power.
Related Articles