Cambodia Celebrates Queen Norodom Monineath Sihanouk's Birthday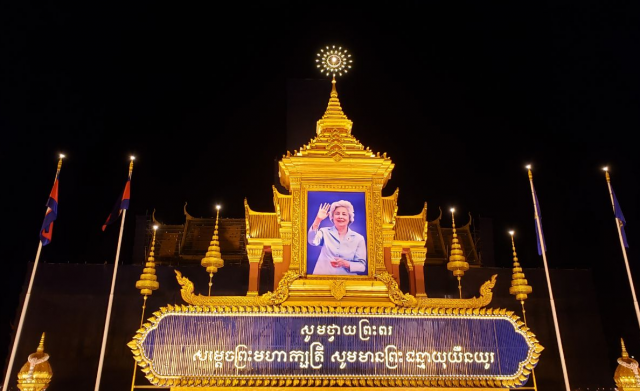 Torn Chanritheara
June 18, 2020 10:49 AM
The Queen Mother received wishes from high-ranking as well as ordinary Cambodians

PHNOM PENH—Cambodia Thursday (June 18) celebrated the birthday of Queen Mother Norodom Monineath Sihanouk who turned 85—84 by Western age count—as people in the country, from top officials to ordinary folks, sent her their best wishes.

To mark the occasion, senior officials including Prime Minister Hun Sen, National Assembly President Heng Samrin and Senate President Say Chhum as well representatives from the private sector sent letters to the Queen Mother wishing her good health, longevity and an auspicious birthday.

"In the name of the government and civil servants across the country, I wish Her Majesty good health, longevity and good fortune, and express our deepest gratitude for your noble actions for the nation and its people," Hun Sen wrote her.

In his book "The Queen Mother: an Eventful life" published in 2016, Julio Jeldres writes that the Queen Mother was born on June, 18, 1936 as Paule-Monique Izzi. Her father was the French-Italian banker Jean-François Izzi and her mother Pomme Peang. She was the second of two daughters.

The Queen Mother married the late King Norodom Sihanouk in 1952. They had two sons: King Norodom Sihamoni who acceded to the throne in 2004, and Prince Norodom Narindrapong who died of a heart attack in Paris in 2003.

According to her official biography, the Queen Mother was elevated to the rank of Samdech Preah Cheayea in in February 1992, to the rank of Samdech Preah Mohesey Norodom Monineath Sihanouk in 1993, and to the rank of Samdech Preah Reach Akka Mohesey in 1996.

Following the abdication of King Sihanouk in 2004, the National Assembly bestowed upon her the title of Samdech Preah Mahaksatrey Norodom Monineath Sihanouk, Preah Voreakreach Meada Cheat Khmer.

In addition to Khmer, Queen Monineath speaks French and English.
Related Articles