Cambodia-China Airfare Costs Soar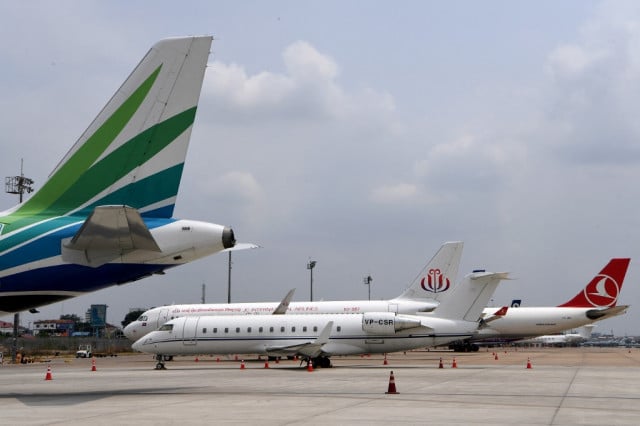 Pandemic slashes passenger numbers
PHNOM PENH--A one-way flight between Cambodia and China is costing up to $8,000, while a return trip is more than $10,000. The one-way fare was previously under $1,000 and sometimes less than $400.
State Secretariat of Civil Aviation (SSCA) spokesperson Sin Chanserivutha said the Cambodia-China airfare has been rising for many months. A flight to China costs ten times more than a flight to the US.
The unprecedented rise in airfares between Cambodia and China was due to the low numbers of flights and passengers, Vutha said. Only one airline was flying the route whereas there were three or four before the pandemic.
He said other airlines had been shut down by China due to the detection of infected passengers. He said China was very strict about traveling to and from the country.
The fare price had to go up to avoid profit losses as the number of passengers on a one-way flight had dropped from 100 to about ten.
The fare between Cambodia and Thailand has also increased. He said the cost of a trip between Phnom Penh and Bangkok rose to $300-$400 from just over $100. However, he said the fare has dropped to $200-$300.
"In the history of air transportation, the fare has never been this expensive," he said.
Airfares between Cambodia and Singapore were less expensive, Vutha said. These had only risen by about $10 to $20. Flights between Cambodia and other countries in the ASEAN have yet to resume.
Sin Chanserivutha said airfares between Cambodia and places other than China and ASEAN countries had increased slightly.
He sees rocketing fares as a barrier for tourists who want to travel to Cambodia. However, he believes prices will drop eventually when there are more flights and competition.
Related Articles