Cambodia Cleans Up at International Martial Arts Contest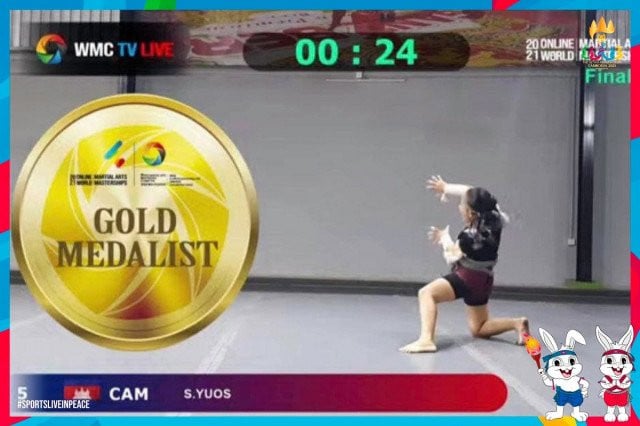 Cambodian martial artists picked up three gold medals, two silver and one bronze at the 2021 International Martial Arts Contest held in South Korea
PHNOM PENH--Cambodia cleaned up at the 2021 International Martial Arts Contest (IMAC) claiming three gold medals and two silver medals at the competition, which was held on Oct. 31 in an online format due to the COVID-19 pandemic.
The event is an annual celebration of martial arts held in South Korea with 220 athletes fielded from 12 participating countries: Laos, Egypt, Vietnam, India, Uzbekistan, Ghana, the Philippines, Malaysia, Iran, Singapore, Korea, and Cambodia.
With six medals total, Cambodia is currently ranked third in the medals table, behind the Philippines who have 20 and South Korea who have racked up 40 so far.
Vath Chamroeun, secretary-general of the Cambodia Bokator Federation, said that winning the gold medal once again is a great honor for Cambodia.
"Winning this medal is an honor for Cambodia to promote Botakor to the world, as Cambodia has always been pushing this martial art form for greater international recognition," he said, adding that the president of the Cambodian Bokator Federation is actively working with the international community to promote this martial art.
In the 2021 IMAC, Yuos Sanchana won a gold medal in the Bare Hands Female Single category, while Thuon Narak and Von Sok Srey Piseth took gold in the Bare Hands Mixed Gender Duo category.
Cambodia picked up another gold medal in the Team Mixed Gender Group category, where Kim Tith Sovathanak, Run Salith, Ponleu Pech Morakot, Ouk Ritheany, Prum Penh Pisal, Chhean Vanrith, Yuos Sanchana, and Phirum Monirothn romped on to victory.
Pech Ponleu won a silver medal in the Bare Hands Male Single category, while Sin Seav Sean and Ey Samun won a silver medal in the Weapon Mixed Gender Duo.
The closing ceremony is set to take place tomorrow evening in South Korea.
Related Articles