Cambodia Competes in New Swimming Events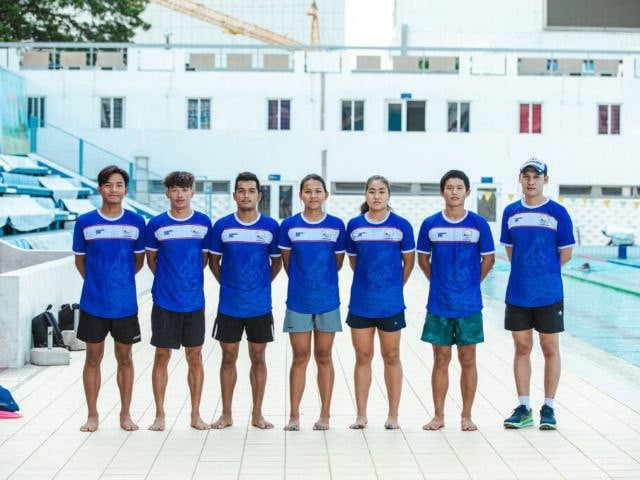 National team tests the waters at SEA Games
PHNOM PENH– Cambodia will send six athletes to compete in the new sport of finswimming at the 31st SEA Games in Vietnam next month.
National team coach Hem Thon Ponleu said the team is training for two sessions of three hours daily.
Finswimming is an underwater sport involving swimming with fins on the surface using a snorkel with either monofins or bifins or underwater with monofins either by holding one's breath or using open circuit scuba diving equipment.
Ponleu said finswimming is an old discipline but is new for Cambodia, which has just trained athletes for these Games. In addition, some equipment has not yet arrived.
Recently, the Singapore Swimming Federation sponsored five pairs of fins for the bi fin event. Fins for surface races have been ordered but have not yet arrived.
The coach said the Cambodian competitors had trained for only 40 days. These Games were just a test of ability but he believed his team will do well. By 2023, he said they would have an increase in technology and quality.
"What we strive to promote in this new discipline is to find strengths and weaknesses to develop into the future," he said.
"If Cambodia has a good result in the 2022 SEA Games, we will train in this discipline to prepare for 2023 SEA Games medals in Cambodia.
Also, when Laos hosted the 2009 SEA Games, the host team won a leading medal in the finswimming event."
The team members for the Games in Hanoi are: Lim Keo Udom, Lim Sokwat Non, Toun Tith Satya, Chhom Chanthon, Kaing Munin and Khen Bun Pich Morakot.
Cambodia will compete in 12 events, the 100m bi fin (men-women), 50m surface (men-women), 100m surface (men-women), 800m surface (women), 1500m surface (male), relay 4 x 100m surface (men-women), relay 4 x 200m surface (men-women) and relay 4 x 100m bi-fin mixed.
Related Articles