Cambodia could 'leapfrog' towards more advanced economy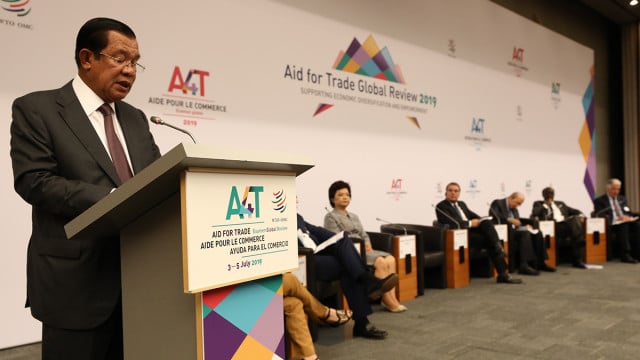 Thmey Thmey
July 8, 2019 4:44 AM
Government report highlights need to strengthen both hard and soft infrastructure

PHNOM PENH - Cambodia could leapfrog towards a more advanced economy if it boosts manufacturing of higher-end products and improves the country's infrastructure, an inter-ministerial report says.
According to a trade integration strategy for 2019 to 2023, Cambodia is "lacking most of the development" of the Third Industrial Revolution of the late 20th century.
But it "has an opportunity to leapfrog in stages" towards the Fourth Industrial Revolution of the current century.
Released during Prime Minister Hun Sen's visit to the World Trade Organization (WTO) in Geneva last week, the report notes that greater demand for higher-end garments is likely to involve using more advanced technologies.
At the same time, more advanced technologies and management practices are also likely if multinationals locate supply chains in Cambodia to make high-end engineering products.
The report highlights the need to strengthen both hard and soft infrastructure.
Hard infrastructure
"Hard infrastructure requires ubiquitous access to broadband Internet, primarily but not exclusively over wireless mobile networks," it says.
The report also stresses the need for "more reliable water and electricity supplies at lower tariffs assisted by inputs of renewable energy into the grid." But "giving subsidies is not a long-term solution."
"Transport logistics is the other hard infrastructure that needs addressing. The key issues to be addressed here are freight and passenger capacity and the efficiency of transport hubs such as ports and warehouses.
"The decision in January 2019 to reduce customs clearance procedures under the Ministry of Commerce's Camcontrol and also reduce the number of agencies involved in border checkpoints is a step in the right direction if this leads to increased efficiencies."
Soft infrastructure
Soft infrastructure meanwhile needs e-Government and legislation to support the spread of digital trade, commerce, data protection and the promotion of payment systems.
The report notes that the ASEAN Economic Community formed in 2018 should be of long-term benefit to Cambodia.
"The shorter-term gain is likely to be more regional foreign investment coming into the country," it says.
The report notes that foreign investment has been instrumental in the adoption of advanced technology in sectors such as garments.
Other sectors include rice milling — with plans to use blockchain technology to guarantee rules of origin and crop quality — and IT start-ups in areas such as hailing apps and in tourism.
These are "all vital foreign exchange earning sectors," the report says.
'Threats and opportunities'
In a foreword to the report, Commerce Minister Pan Sorasak warns that recent global developments could have a "detrimental impact on Cambodia's economy if not mitigated.
"The emergence of protectionism and the rise of geopolitical divide provide both threats and opportunities for small economies like Cambodia."
In addition, other external factors "warrant a closer look at Cambodia's trade competitiveness factors and how Cambodia can maintain its comparative advantage."
These include the potential unilateral suspension of trade preferences, free-trade agreements and the erosion of preferences through Cambodia's future graduation out of Least Developed Country (LDC) status.
Related Articles