Cambodia Declares a New COVID-19 Community Outbreak as 32 Cases Are Detected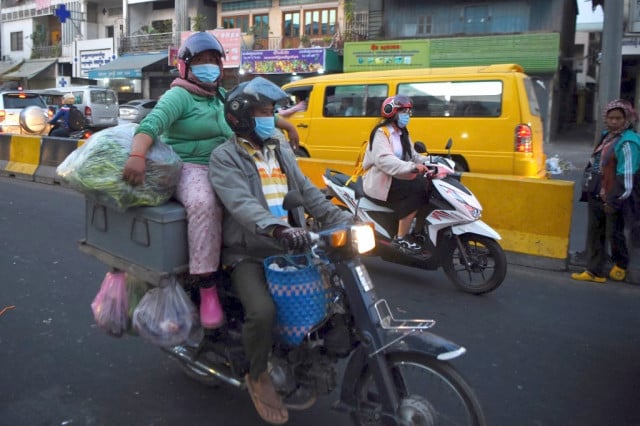 Sao Phal Niseiy
February 20, 2021 5:14 AM
Prime Minister Hun Sen also calls on people to help curb the spread of the disease
PHNOM PENH--Cambodia on Feb. 20 reported the country's third COVID-19 community outbreak as the authorities have detected 32 cases within 10 hours in Phnom Penh.
"The situation is entering into a new phase and we are declaring that it is the third community outbreak," Prime Minister Hun Sen said in a special address to the nation. "I have designated the outbreak as the 'February 20 Event.'"
According to the prime minister, around 32 cases were detected within 10 hours, and the starting point of the infection was identified as the N8 night club located in Tuol Svay Prey II commune in Boeng Keng Kang District.
"Such a case has never happened in our country," he stressed. "This is a bad situation for us as we have been battling COVID-19 cases imported from Vietnam and Thailand."
In the same address, Hun Sen ordered the authorities to temporarily close some buildings, night clubs as well as other areas of Phnom Penh deemed to be linked to the transmission.
While calling on people who may have been in areas where the outbreak was identified to take COVID-19 tests, Hun Sen instructed the authorities to conduct a swift contact-tracing operation to identify people who may have connection with places, and especially the N8 night club, where coronavirus cases were detected, paying close attention to those who have had direct or indirect contact with people infected with the coronavirus.
The prime minister also reiterated his call to the general public to continue to strictly adhere to the preventive health measures and work together to prevent the spread of the disease.
Cambodia experienced two community outbreaks in 2020: the Nov. 3 event which took place following the visit by Hungarian Foreign Minister Péter Szijjártó, and the Nov. 28 event, which was first identified in connection with the wife of Chhem Savuth, director of the General Department of Prisons.
Rolling out the vaccination program on Feb. 10, Cambodia had, as of Feb. 19, vaccinated 4,609 people with the Sinapharm vaccine developed in China and donated by that country.
No discrimination against Chinese nationals, Hun Sen asks
During his address on Feb. 20, Hun Sen also asks people not to discriminate against Chinese people in the country even though the latest community infection involves Chinese nationals.
"Please don't discriminate against [them]: It can happen to any nationals," he said, adding that there had been instances of hostile behavior towards Phnom Penh residents following previous community outbreaks.
The prime minister went on to recall that, in 2020, Cambodians had developed negative feelings towards Westerners after many COVID-19 cases had been found to involve French, British and American nationals.
People should use the fear they feel to continue social distancing and other measures to prevent the spread of the coronavirus instead of discriminating against other nationals, Hun Sen added.
Related Articles