Cambodia Denies that Vietnamese Nationals Were Infected with COVID-19 while in Cambodia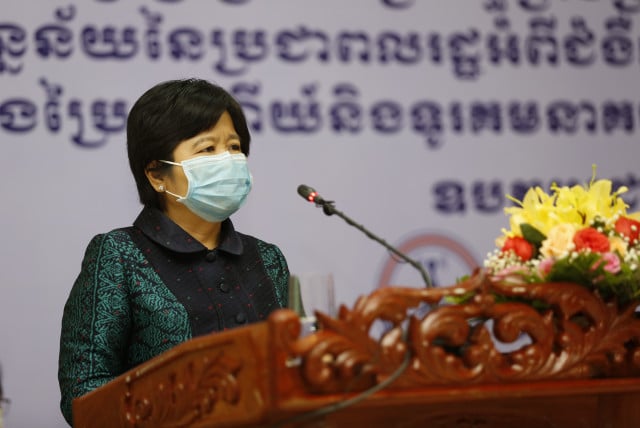 Phoung Vantha
September 11, 2020 4:44 AM
All the 174 patients hospitalized with the coronavirus since the start of the epidemic have recovered
PHNOM PENH—The Ministry of Health on Sept 10 vehemently rejected a report published in the Vietnamese media, which stated that three Vietnamese nationals had returned from Cambodia infected with the Coronavirus Disease 2019 (COVID-19).
"The Ministry of Health of Cambodia would like to completely reject the [information published] in the Vietnamese news outlet, which reported that three Vietnamese people were infected with COVID-19 while in Cambodia," Or Vandine, spokesperson for the Ministry of Health, said during an online group chat with journalists. This was "fake news," she added.
On Sept. 8, the online news VnExpress International reported that three Vietnamese who had returned from Cambodia on Aug. 26 via the Vietnamese Moc Bai border crossing in Tay Ninh Province—Svay Rieng Province on the Cambodian side—had tested positive for the coronavirus.
The three persons may have been infected after returning to Vietnam, Vandine said.
On Sept. 11, the Ministry of Health announced that no new case of COVID-19 had been identified in Cambodia. So far, the ministry has reported a total of 274 cases in the country, with all the 274 patients having recovered.
The patients have consisted of 174 Cambodians, 41 French, 17 Chinese, 13 Malaysians, eight Indonesians, seven Americans, five British, three Canadians, three Vietnamese, one Belgian, one Indian, and one Kazakhstani.
The last person to be infected with COVID-19 was an Indonesian man who had arrived in Cambodia on July 30 and been identified to be carrying the disease. He has since recovered and been discharged from the hospital.
Related Articles