Cambodia Donates 2 Million Masks and Medical Equipment to Lao PDR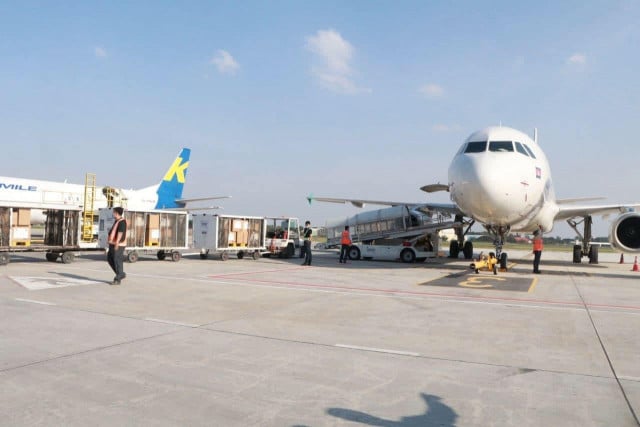 Phoung Vantha
November 16, 2020 3:53 AM
Alongside the face masks, Cambodia donated a range of equipment to support Lao PDR's fight against the pandemic in a gesture of solidarity.
PHNOM PENH--Cambodia donated 2 million face masks and medical equipment to Lao PDR to prevent the spread of the COVID-19 pandemic. The one international checkpoint along the 435 kilometer border between the two countries has been closed as of March 2020 due to the ongoing pandemic.
Defense Minister Tea Banh headed a delegation on Nov. 16 to donate the medical equipment to the government of Lao PDR, according to Prime Minister Hun Sen.
"On behalf of the Cambodian government, I would like to donate 2 million face masks and other medical equipment as listed to the government and the people of the Lao People's Democratic Republic," Hun Sen announced on his official Facebook page.


The donation included 2 million face masks, 100,000 fabric face masks, 20,000 N95 masks, 20,000 goggles, 20,000 PPE sets, 500 Infra Thermometers for checking body temperature, 20,000 face shields, 20 ventilator machines, 20 patient monitors and accessories, as well as 500 containers of Chloramine B powder, 1,000 safety boots and 2,000 liquid hand soaps.
While it is unclear what prompted Cambodia's apparent generosity or where the equipment was sourced from, Lao PDR has officially reported just 24 cases of COVID-19 and, like Cambodia, no deaths have been recorded in connection to the ongoing pandemic that has so far claimed more than 1.3 million lives worldwide.
Cambodia's Ministry of Health announced on Monday (Nov. 16) that no new cases of the virus had been detected, even as testing in relation to the Hungarian Foreign Minister's Nov. 3 visit has risen to 3,918 people. Hun Sen remains in quarantine following exposure to the Hungarian diplomat, but so far just four Cambodians have tested positive for the virus.
At press time on Nov. 16, the total number of reported cases of COVID-19 in Cambodia stood at 302. Among them, 13 patients are being treated while the others have since recovered.
Related Articles
February 21, 2022 12:51 PM