Cambodia Establishes a Working Group to Review and Expand its Vaccination Strategy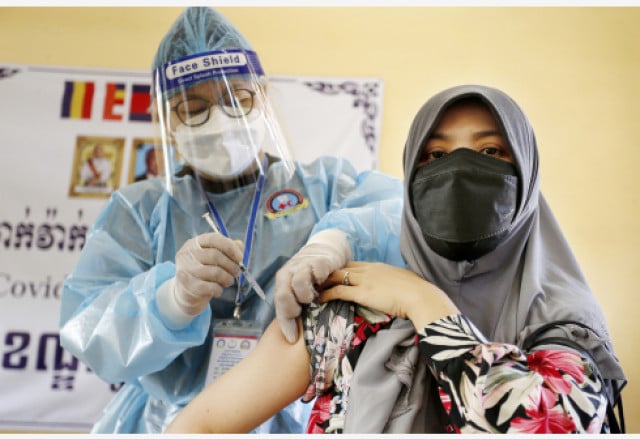 As more cases of a COVID-19 variant are found in the country
PHNOM PENH--The Cambodian government has formed a working group to review its vaccination strategy as the country continues its vaccination drive amidst a surge in COVID-19 cases.
According to the decision letter issued by Prime Minister Hun Sen on July 16, the working group, which is headed by Or Vandine who is spokesperson of the Ministry of Health and heads the ad-hoc committee on vaccination, will be tasked with conducting studies and providing assessments and recommendations on the vaccination program.
Hun Sen also announced the government's plan to vaccinate around 1.9 persons 12 to 17 years old. Vaccinating children and teenagers is critical for Cambodia because this will not only contribute to creating herd immunity but it also will enable youngsters to get back to school, he said.
In the meantime, the health authorities continue the COVID-19 vaccination campaign throughout the country with the goal of meeting Cambodia's initial vaccination target of 10 million people. As of July 16, a total of 5,601,064 persons had received the first dose of the 2-dose vaccines while 4,073,434 persons had received both doses.
Several cases of COVID-19 variant identified in the country
As the country continues to see a surge in coronavirus infection, the Ministry of Health on July 16 notified that 37 new cases of the more contagious COVID-19 variant B.1.617-2—known as the Delta strain and first discovered in India—were found between July 7 and July 14. The cases involved 34 Cambodians returning from Thailand and three Indonesian nationals arriving on international flights.
The Ministry of Health also reported that 836 new COVID-19 cases had been reported on July 17 and that 24 patients had succumbed to the disease. Meanwhile, 928 persons have fully recuperated and been discharged from hospital.
These cases brought to 66,336 the total number of cases in the country with 57,955 recoveries and 1,076 deaths since the start of the pandemic in early 2020.
Related Articles