Cambodia Forges Closer Ties with China by Signing Bilateral Trade Deal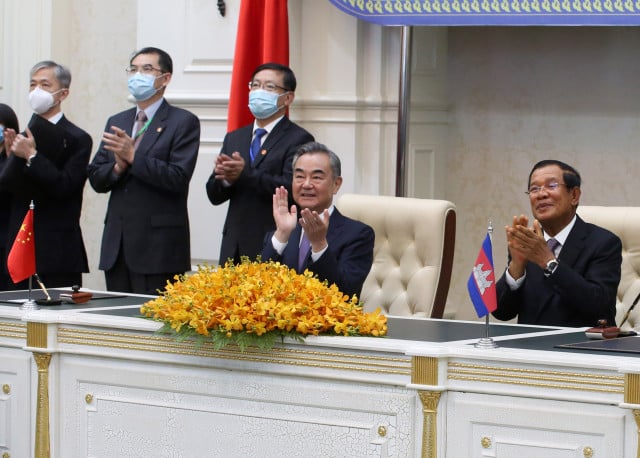 Sao Phal Niseiy
October 12, 2020 12:41 PM
The long-awaited China-Cambodia FTA was finally signed today, but experts warn that Cambodia must reform governance with increased transparency if it is to make the most of the new deal.
PHNOM PENH--Cambodia and China on Monday (Oct. 12) signed the long-awaited free trade agreement to bolster bilateral cooperation, but while much has been made of Cambodia's increasing reliance on China, experts warned that deeper ties will likely frustrate Western powers.
The signing ceremony was held with the witness of visiting Chinese Foreign Minister and State Councilor Wang Yi and Cambodian Prime Minister Hun Sen.
During the event, Minister of Commerce Pan Sorasak, who represented the Prime Minister to sign the agreement, said that the bilateral trade deal exhibits a significant advancement in economic and trade relations between Cambodia and China.
"This is first ever bilateral free trade agreement for Cambodia and most importantly, it is the bilateral agreement to be signed between Cambodia and the People's Republic of China, our long-standing friend and comprehensive strategic partner," Sorasak said.
"The signing of this agreement signifies even stronger ties between the two countries and marks another key historical milestone for Cambodia and China relations," he added.
The Commerce Minister noted that the agreement also plays an important role in driving a robust economic partnership by ensuring market access and liberalization for goods, services and investment.
Sorasak went on to say that the timely implementation of the deal would provide economic and social benefits to people of the two countries in a mutually advantageous manner, adding that he expected the deal to be ratified and enter into force by 2021.
Chinese Commerce Minister, Zhong Shan, responding through a video conference, echoed his Cambodian counterpart's sentiments and suggested that the trade deal with Cambodia will be momentous in bringing the two nations' bilateral relations to a higher level in the future.
"Our signing of the agreement today is a new milestone and a development of bilateral economic and trade relations," Zhong Shan said.
In the same event, three other important documents namely the Agreement on Economic and Technical Cooperation under Grant Aid, the Exchange of Note for the Feasibility Study on the Project of Improvement of Sihanoukville Provincial Referral Hospital and the Exchange of Note for the Feasibility Study on the Project of the Municipal Sewerage System Development Project in Sihanoukville were also inked.
Hun Sen: EBA will be lost, but China-Cambodia FTA is Forever
During the bilateral meeting with Hun Sen, Wang Yi said China is committed to further deepening cooperation with Cambodia in the future. Wang also reassured Hun Sen that China will continue to unwaveringly support Cambodia, ensuring that the Southeast Asian country can preserve its sovereignty.
In response, Hun Sen deeply thanked the Chinese government for its contribution and assistance to Cambodia's development, according to a statement published on Hun Sen's Facebook.
He also went on to claim that the free trade agreement signed with China today will last forever while noting that the "Everything But Arms (EBA)" preferential trade status granted by the European Union (EU) will be lost one day.
Cambodia effectively lost 20 percent of its preferential trade treatment under the EBA scheme granted by the EU due to its poor human rights records
China-Cambodia FTA to Support Cambodia's Industrial Development
China and Cambodia began the first round of negotiations on the free trade agreement in January 2019 and was concluded in July 2020. The agreement was initially speculated to be signed in August 2020, but no specific date had been provided.
Po Sovinda, a PhD scholar at Griffith University in Australia, concurred that Cambodia's first free trade agreement will serve as an imperative mechanism to assist the country's industrial development while acknowledging that China will gain more benefits from the deal.
"Cambodia needs new markets for its own agricultural produce and China is a market of over one billion people. Chinese ability to absorb Cambodian agriculture produce will enable Cambodia to turn financial incentives provided by this agriculture exports into industrialization efforts," Sovinda said.
"Thus, Cambodia will be able to catch up on the current trend of the fourth Industrial Revolution," he continued.
In addition to driving industrial development, Chheang Vannarith, President of Asian Vision Institute, said that the bilateral trade deal with China also could help Cambodia attract more foreign investors, including those from the US who, Vannarith predicted, will take into consideration the ongoing trade war that has motivated a relocation of American companies from China to Southeast Asian region.
However, he stressed that in order to gain maximum benefits from the deal, the Cambodian government must do more to reform governance by stepping up its efforts in promoting transparency and fighting corruption.
China and Cambodia established diplomatic relations in 1958, and the ties have continued to be fostered with China becoming Cambodia's sole strategic partner in 2012.
Currently, China also remains the number one source of foreign direct investment into Cambodia, having invested some $3.5 billion in 2019 alone, with both countries aiming to reach $10 billion in annual trade by 2023.
Geopolitical Implications
The signing of the China and Cambodia free trade agreement also comes as diplomatic relations between Cambodia the West have become increasingly fraught amid fierce competition between the US and China as well as a slew of human rights concerns in both Cambodia and China.
Most importantly, the US has several times accused Cambodia of allowing China to use Ream Naval base—an allegation which the Cambodian government repeatedly refuted and deemed as fabricated news. This prompted Hun Sen to announce last week that any nation is allowed to use the country's base.
Sovinda, who is also a research fellow at the Cambodian Institute for Cooperation and Peace, noted that the trade deal also has quite significant geopolitical implications.
"It [the trade deal] further enhances Chinese influence in Cambodia which is already overwhelming. It also intensifies the perception in the US and the EU that Cambodia does not seem to pause and reconsider the Western concerns about the rise of China," Sovinda said.
He went on to say that with Cambodia moving closer to China, it can be expected that more pressures would be placed on Cambodia by the US and the West in general.
"Even though it is in Cambodia's national interest to embrace China, such a close friendship has created concerns for other nations," he added, pointing to the repeated accusations by Western media and governments concerning Ream Naval Base as one example.
The West, he said, does not have much trust in the Cambodian government when it comes to independent foreign policy.
"So that it is a dangerous situation in that the Cambodian elites need to reconsider its foreign policy practice," he concluded.
Related Articles