Cambodia Has More Than 6,600 Ancient Sites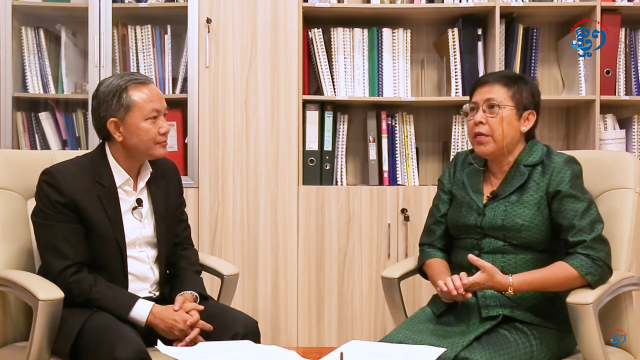 PHNOM PENH - With more than 6,600 historical sites around the country including temples of various sizes, canals, routes, shrines as well as made-man water reservoirs, Cambodia still has a lot of work to do in terms of archaeological domain. For hundreds and hundreds of years, these places have been battling against the devastating threats of nature, wars and theft. Oftentimes, temples built to serve the gods turned into abandoned piles of stones hidden somewhere deep in the forest. However, in the course of studies in archaeology, engineering and architecture, some of these temples have been brought back to life and to a healthier state so that scientific approaches can be used to rescue and preserve those temples' structure.
As Minister of Culture and Fine Arts Phoeurng Sackona explained during an interview, Cambodia's younger generations of people who are passionate about protecting this precious heritage can play an important role to preserve their ancestors' precious legacy.
Ky Soklim: About 20 years ago, many foreign experts in various fields of monument preservation came to Cambodia to teach our people about archaeology and monument preservation. Today, the workforce in this particular field is seen as being sufficient. However, could there be an issue of inadequate human resources in the future if today's young people don't get involved in these specialized fields?
Phoeurng Sackona: If we analyse the history of our country, after the Pol Pot [Khmer Rouge] regime, experts in architecture or engineering were pretty much gone. Seeing this,​​ the government has been continuously initiating and establishing programs, for example supporting the Royal University of Fine Arts to revive the spirit of archaeology and architecture especially regarding the structure of the temples. For 20 years, Cambodia was significantly lacking, without the necessary number [of experts], and in need of great help. Entities like the International Coordinating Committee (ICC) of Angkor offered a tremendous amount of assistance. As a result, there is a clear improvement in terms of Cambodian specialists as seen during meetings of the ICC Angkor, ICC Preah Vihear or Sambor Prei Kuk [these three sites being on the UNESCO World Heritage List]. This improvement has subsequently attractedthe attention of foreign experts. Evidently, the current preservation or restoration of temples or pagodas all around Cambodia is being executed by Cambodian people. Nonetheless, we still need to have consultations with international experts in order to correspond to international standards. It is not possible for us to work on projects involving the world's heritage without discussing it with international organisations. Consultation and inspection occur twice a year, every six months [along with] the exchange of documents and such. Although we are required to discuss with international experts, the implementation is done by Cambodians. Everyone involved in the process will be Cambodians, ranging from project directors to [restoration] workers. Hence, in terms of capability and improvement, there is a significant increase. However, if you were to ask me about our limitations, I would say we still have limitations.
Ky Soklim: Is it because we have too many temples?
Phoeurng Sackona: The reasons are that, first of all, there are numerous temples in Cambodia. Second, we have a limited amount of resources on hand. Moreover, the skills and the number of people in the field depend on individuals. Without passion, individuals may face difficulties in learning and advancing in this field of work while [salaries] and impatience could be major hindrances as well. Working on world heritage sites requires an incredible amount of patience and care. During the excavation process, archaeologists have to brush lightly on that particular item to avoid any unintentional damage. This requires great self-discipline. In addition, if gold or any other precious items are found at any point during the excavation process, one cannot take it home in any circumstance ethically speaking.
Ky Soklim: No matter what is found during an excavation, whether gold or treasure, one cannot return home with such things?
Phoeurng Sackona: Absolutely not. This is the ethics of the work: They consider these discoveries as the nation's treasure.
Ky Soklim: Even though the item may be a container or something less important, still it cannot be taken home?
Phoeurng Sackona: No, absolutely not. Except for the excavation or restoration workers, the local people themselves are not allowed to take anything from the sites. According to the law, anything that is buried underground at a depth of one to one-and-a half-metre is considered the property of the nation. Even if one found ancient artefacts on their farm, it does not give that person the right to personally own that item. In cases where treasures or artefacts are found on their property, the found items must be delivered to the government or relevant institutions for safeguarding.
Ky Soklim: Do you believe that the number of professionals is enough in the field? Perhaps young people today are more enthusiastic about real estate or other sectors?
Phoeurng Sackona: Yes, it is a matter of passion as I mentioned previously, when one feels distressed when seeing part of a temple tremble or starts to realise that these legacies will be totally gone one day if neglected. The number of people is not that large when we refer to the field of archaeology. There are about 100 students annually graduating from universities and the number might not exceed a few 1,000s. On the other hand, engineering is more promising than archaeology. We have about 200 fresh graduates from engineering every year. Nonetheless, the number does increase.
Ky Soklim: Are you concerned that no one is interested in conserving or restoring the temples in the future and that, eventually, the government may have to spend time investing in new human resource once again? Or does the ministry or the government have any measure to address this challenge?
Phoeurng Sackona: The vocational training and raising awareness must go on endlessly, especially in architecture and archaeology. There are Cambodian young people out there who are interested in these two majors and willing to learn continuously. Regardless of the number of enrolments, we have a continuous cycle of incoming generations replacing our latest graduates. Currently, based on the size of our resources, we are able to sustain. Nonetheless, strategic planning still plays an important role as well to preserve thousands of temples in Cambodia including historical sites, ancient pagodas and many more.
Ky Soklim: How many temples do we have right now?
Phoeurng Sackona: According to our data, we have more than 4,000 [historic] temples nationwide. That being said, the number is also increasing due to technological advancement. We are using Lidar [Light Detection and Ranging], [a technology to] scan the number of temples from above. Through this state-of-the-art method, we have located up to 6,000 temples. In the past, after the Pol Pot regime, our research relied on what we knew or what the French had documented. We knew of around 4,000 temples back then. With Lidar, the laser flown from above can penetrate underground at a certain depth. This allows us to identify traces of temples or other ancient structures. Takeo province has a great potential since the ancient kingdom of Chenla predates the Angkor period. As a matter of fact, one ancient canal flowing from the city of Angkor Borei is still in use today. Making its way from the region of Phnom Da to the sea, this canal might have existed since the first or the second century CE. Moreover, we have found ancient walls in addition to other vestiges of temples. Thereby, Lidar shows us not just temples but also all kinds of other structures including canals, water reservoirs and even ancient routes. These are huge contributions to studying or mapping the geography of ancient statehood.
Ky Soklim: It is obvious that the Angkor Wat temple is a long-lasting architectural structure. However, could it last for another 500 or 1,000 years on its own without support or conservation?
Phoeurng Sackona: The lifespan of Angkor Wat, without support and care, will be shorter. It cannot remain for thousands of years without support. Currently, we are providing as much support and repair as possible. When we are repairing, we cannot start by repairing the entire temple. It is like starting to develop the entire country: It has to be done one step at the time. We cannot start by doing everything all at once because we do not have the capacity and resources to do so. Therefore, the archaeologists and architects will conduct studies to identify places that need the most attention. For example, Banteay Chhmar has 30 risky places to fix according to the specialists. Nevertheless, there is that one specific spot that, if left unattended, will lead to the overall structure of the temple being destroyed. Therefore, that particular spot is the first priority. Every huge temple has its own blueprint that determines the risky areas. When the restoration process starts, we address the most risky areas first. In some structures, one missing stone can make the entire thing crumble. Experts are aware of this, and we have to continue maintaining that documentation. When one priority [work] is completed, we move on to the next one. The main idea is to address the problem according to priorities so as to maintain the well-being of the temple. The first thing to do is to protect temples from crumbling. A collapsed temple will be very difficult to restore. All in all, without restoration, those temples cannot stand for too long.
Song Daphea contributed to this story.
The interview with Minister of Culture and Fine Arts Phoeurng Sackona was conducted in October 2020 and can be viewed in Khmer on the internet at: https://www.youtube.com/watch?v=hWHPFgP1sHY
Related Articles
September 10, 2023 4:00 PM