Cambodia Hosts a Major E-Sport MSC Tournament for the First Time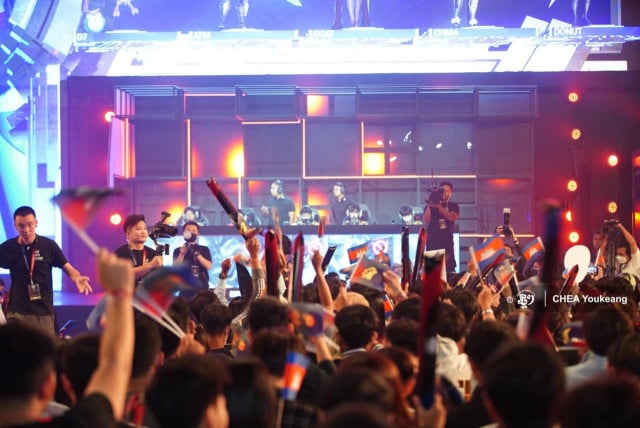 PHNOM PENH – Cambodia is currently hosting the Mobile Legends: Bang Bang Southeast Asia Cup 2023 (MSC 2023) for the first time with the home team saying it is ready for the match.
The tournament kicked off June 10 and will run through June 18. As many as 12 teams from Southeast Asian countries, Turkey and the United States are competing in the event held at AEON Mall in Meanchey district in Phnom Penh.
Burn x Flash, which is the only team representing Cambodia in the event, lost 2-0 to the Indonesian team Onic E-sports during its first match.
As Burn x Flash member Suo Mara explained afterwards, this is not the result the team had hoped for. In fact, he stressed, the competition had really been a close call.
Addressing the press after the match, team manager Te Tekheng, said that team members had learned from their mistakes and were going to train before their next match with the team Outplay from the United States scheduled for June 13.


Suo Mara (second left) and Te Tekheng (third left) speak to the media during a press conference. Photo: Chea Youkeang

Tekheng, who is nicknamed Lee Xin, said that it was really exciting to compete in the event while at the same time feeling the pressure of representing the country. "Support from the fans motivates us to compete," he said.
E-sports have truly gained in popularity among Cambodians in recent years. They were included in the 2023 South East Asian Games and the 2023 ASEAN Para Games in Cambodia.
During the 12th ASEAN Para Games that ended June 9, Cambodian para-E-sports players earned a bronze medal in the Mobile Legend, achieving a satisfactory result as the sport had been included in the games for the first time.
Related Articles