Cambodia intends to arrest CNRP leaders returning to the country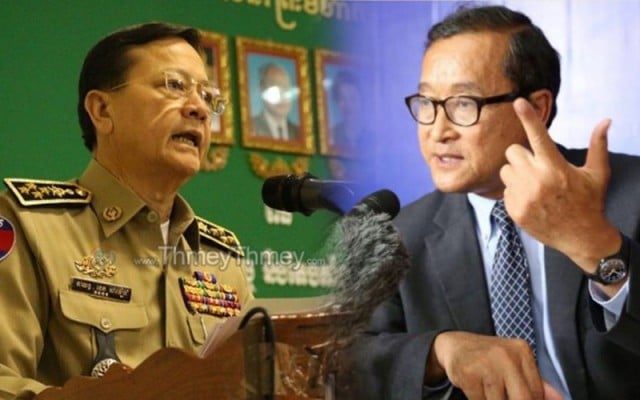 Thmey Thmey
July 27, 2019 9:07 AM
The National Police says will do whatever it takes to implement the arrest warrant against Raingsy and his group
PHNOM PENH--Cambodia's National Police issued a press statement Saturday to the effect that the country's authorities will use every possible means to arrest former opposition leader Sam Rainsy and his associates.

National Police spokesman Chhay Kim Khoeun told Thmey Thmey that the authorities will do whatever it takes to implement the arrest warrant against the acting leader of the now disbanded Cambodia National Rescue Party (CNRP) Sam Rainsy and his group the minute they set foot on Cambodian soil.
"The measure is to strengthen and protect the rule of law, and especially to ensure security and social order," Khoeun said Saturday in an interview regarding the statement.
This statement follows the former opposition leaders' announcement that they were determined to return to Cambodia next month or in September. Rainsy has been living abroad for several years, and several CNRP leaders fled the country following the Cambodian authorities' dissolution of the party in late 2017.
"We appeal to the general public nationally and internationally to support our authority in implementing the laws, and to be cautious not to fall for the tricks of a small group of people who have bad intentions and have been trying to incite people to rise up against the authorities," the National Police statement read. "This is illegal and threatens social security and order."
CNRP Vice President Mu Sochua said in June that the CNRP leaders' return would be peaceful and non-violent in compliance with democratic principles.
Earlier this month, Rainsy said that he would return to the country accompanied by members of the European Parliament.
Related Articles