Cambodia Is Set to Secure 20 Million Doses of COVID-19 Vaccine within Weeks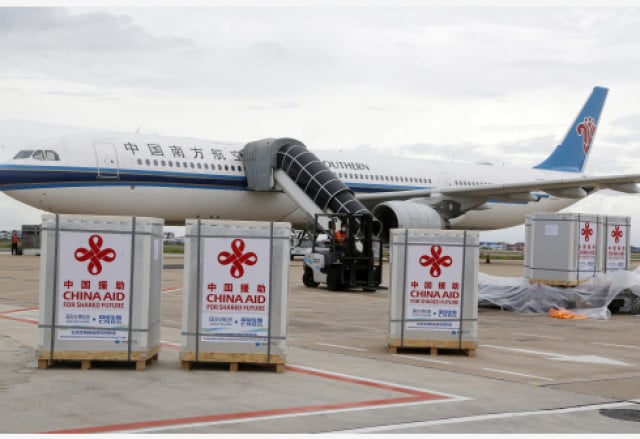 This may enable the country to meet its vaccination goals ahead of schedule, a government official says
PHNOM PENH--Cambodia expects to have 20 million doses of COVID-19 vaccine in stock by August 2021, which will enable the country to reach its goal of having 10 million people vaccinated by the end of the year, Vongsey Vissoth, secretary of state for the Ministry of Economy and Finance, said.
Speaking on June 26 as he was overseeing the arrival of 1 million doses of Sinovac vaccine bought from China, Vissoth said that Cambodia will receive another shipment of 1 million doses on June 28, then 5 million doses in July and 4 million doses in August through orders placed with the Chinese government.
Cambodia has set aside $170 million to purchase COVID-19 vaccine, he said, adding that, with these doses on hand, a vaccination campaign may soon be launched across the country.
"On June 30…[Minister of Economy and Finance] Aun Porn Moniroth will chair a meeting to review the vaccination plan," Vissoth said. "We will…examine the feasibility of revising the strategic vaccination plan because we are worried about children, whether…children under the age of 18 should or should not be vaccinated."
The authorities will also look into whether people should receive a third vaccine dose, he said, adding that other countries are also studying this.
Cambodia has so far obtained 6.5 million doses of Sinovac and 3.2 million doses of Sinopharm vaccines, which are produced in China. The country has also obtained 324,000 doses of AstraZeneca vaccine through COVAX—a global effort overseen by the World Health Organization and other organizations to provide all countries equitable access to vaccines.
According to Vissoth, the vaccination campaign will end no later than November in the country, that is, ahead of schedule.
As of June 26, a total of 3,886,534 persons had been vaccinated in the country, which is 38.87 percent of the authorities' initial 10-million target. Among them, 2,843,202 persons have already received their second doses of the vaccines.
So far, vaccination campaigns have mainly been conducted in Phnom Penh, Kampong Speu Province, Kandal Province, Koh Kong Province, Takeo Province and Preah Sihanouk Province.
Cambodia has reported 47,649 cases of coronavirus with 42,157 recoveries and 540 deaths since the pandemic began nearly 18 months ago in the country.
Related Articles