Cambodia Launches an Online Platform for Vocational and Technical Training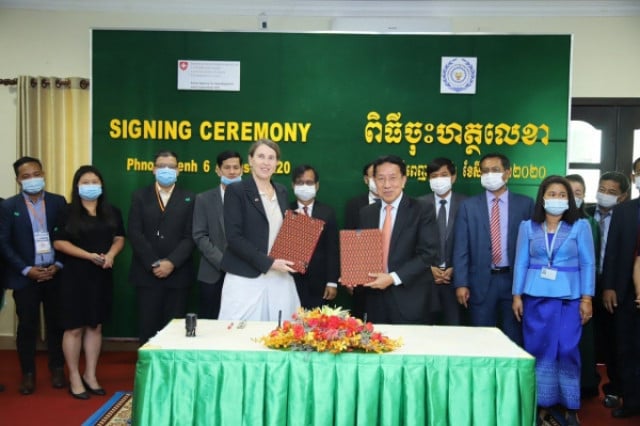 Sao Phal Niseiy
August 7, 2020 10:31 AM
Hopes are it will not only help students learn but also familiarize everyone with digital education
PHNOMP PENH—Cambodia has unveiled the country's first online platform for technical and vocational education and training (TVET) institutions. Established with Swiss government assistance, it is meant to help boost youth's technical skills amid the Novel Coronavirus (COVID-19) pandemic.
The distance learning program for TVET institutions was launched on Aug. 6 with an agreement being signed by Pich Sophoan, secretary of state at the Ministry of Labor and Vocational Training, and Nadia Ottiger, acting director of the Swiss Agency for Development and Cooperation (SDC).
According to Sophoan, the online training program, which will start this month and end in May 2021, will be critical as it will help enhance the country's young people's skills during the pandemic.
"Over the next 10 months, both sides are anticipated to achieve an online study system for TVET institutions," Sophoan said in statement published at the Labor Ministry's website, adding that he is optimistic that the program will continue even in post COVID-19 times.
Cambodia up to date has 23 public technical and vocation training institutions that have been certified by the International Organisation for Standardisation (ISO).
In the meantime, students and participants' registration, teaching, learning as well as sharing related to study materials will be conducted virtually, which, Sophoan said, may help facilitate the learning process for students and especially for those who live in rural areas.
"This [program] will be different from previous [physical classes] as lessons will be recorded in video clips, and students can re-watch the clips when they are not clear or couldn't catch up with the lessons," Sophoan stressed.
With the arrival of the Industrial Revolution 4.0., people need to adjust to the new social life with digital technology, which requires them to bolster their skills as well as their digital knowledge in order to work effectively and efficiently, he said.
"Thus, we hope that this online TVET program will help other people to learn and understand more about digital education," Sophoan concluded.
Related Articles