Cambodia marks foundation of salvation front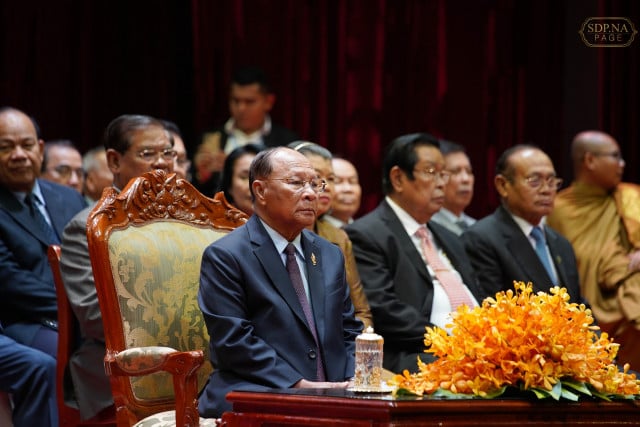 Torn Chanritheara
December 2, 2019 6:44 AM
Heng Samrin praises 'great victory' in destroying coup planned by rebels led by Sam Rainsy

PHNOM PENH - Hundreds of people marked the 41st anniversary Monday of the Solidarity Front for the National Salvation of Kampuchea.
Heng Samrin, founding chairman of the front and now president of the National Assembly, presided over the event held at the Chaktomuk Conference Hall.
Members of parliament and the two supreme Buddhist patriarchs also took part.
Heng Samrin noted that Cambodia was now living in peace with full rights,freedom and prosperity.
"We recently achieved a great victory in destroying a coup planned by outlawed rebels led by Sam Rainsy who chose November 9 to topple the government," he said.
He called on members of the ruling Cambodian People's Party and the front — now known as the Solidarity Front for Development of the Cambodian Motherland — to promote solidarity, patriotism and connections with people.
Heng Samrin founded the front in Snuol District in Kratie Province on December 2, 1978, with an 11-point mission to liberate the country from the genocidal Pol Pot regime.
On his facebook page, Prime Minister Hun Sen said: "the front was established by solidarity forces, both internal and external, led by Samdech Heng Samrin, Samdech Chea Sim, Samdech Hun Sen and other patriotic individuals to topple the Pol Pot regime and gain victory on January 7 1979."
Related Articles