Cambodia Marks the First Anniversary of Lakhaon Kaol on the World Heritage List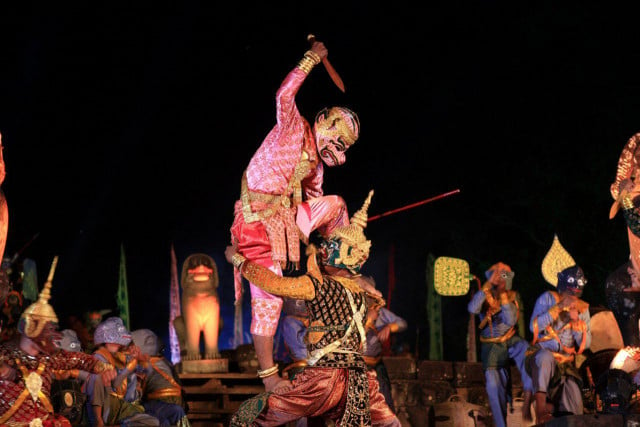 Phoung Vantha
November 29, 2019 7:29 AM
PHNOM PENH--Cambodia Thursday held a spectacular event in the Angkor Archeological Park in Siem Reap Province to mark the first anniversary of the Khmer masked-dance Lakhaon Kaol being proclaimed an Intangible Cultural Heritage by Unesco.
Hundreds of dancers performed in the traditional masks and costumes at the Terrace of the Elephants in Angkor Park in front of thousands of spectators come to see the dazzling dance.
"Tonight, we celebrate a night of memory to urge Cambodians to care and remember our ancestors' work," Culture and Fine Arts Minister Phoeung Sakona said at the event.
"We must pay attention…if we forget, we will face trouble in the future," she said, pointing out the importance of Cambodians' knowing and appreciating their age-old artforms.



In November 2018, the traditional form of Lakhaon Kaol performed at Wat Svay Andet, which is located about 10 kilometers east of Phnom Penh, was put on the List of Intangible Cultural Heritage in Need of Urgent Safeguarding. The dance has been transmitted orally in the neighboring villages of Ta Skor and Peam Ta Ek with the support of the pagoda, but the lack of resources to continue to do so prompted the Cambodian government to seek Unesco support to safeguard the artform.
The dance is performed in elaborate costumes and masks that make breathing difficult for the male dancers who execute physically demanding movements as they stage battles and other elaborate scenes from the Reamker—Cambodia's version of the Indian epic tale Ramayana.
On his Facebook page, Prime Minister Hun Sen commented on the Lakhaon Kaol's being on the Unesco list. "It is contributing to the reputation of the Kingdom of Cambodia in the world and make Cambodia a more prominent figure on the World Heritage forum," he said.
The event Thursday also included a performance of Sbek Thom shadow puppets, which were inscribed on the Unesco List of the Intangible Cultural Heritage of Humanity in 2008 along with the Royal Ballet of Cambodia.
The Chapei Dong Veng musical tradition of a singer/storyteller accompanying himself on this special chord instrument, was put on the Unesco List of Intangible Cultural Heritage in Need of Urgent Safeguarding in 2016.
Related Articles