Cambodia Must Prioritize Education and Research to Realize its Vision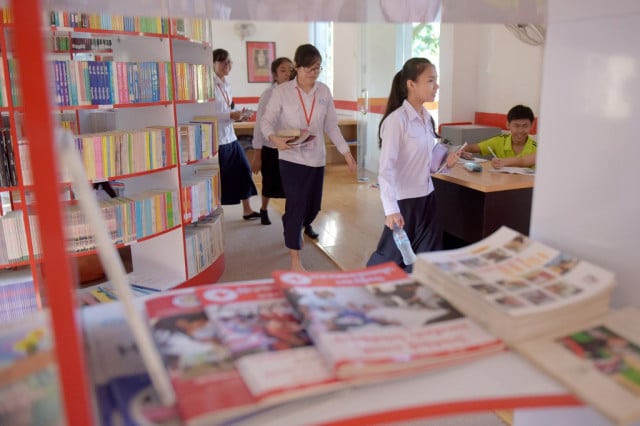 Kimkong Heng
July 30, 2020 10:33 AM
Cambodia has the vision of becoming a knowledge-based society, an upper middle-income country, and a high-income economy as soon as in the next decade.
To materialize this vision, despite the novel coronavirus (COVID-19) pandemic, the country has to do a lot of things, one of which is to place a greater emphasis on education, research and innovation to develop the human capital needed to drive its economy and supports its transformation process to become a more developed country.
During the pandemic, everything seems to be driven by COVID-19. However, this may not always be the case. As of the end of July, a lot has been done by the government to mitigate the impact of COVID-19. For example, an economic stimulus package in the form of wage subsidy and cash handouts has been rolled out. The government has improved its emergency support mechanisms by identifying the real poor households and removing over 6,000 families considered "fake" poor families from the list of those who can receive the government-funded cash handout scheme.
In general terms, COVID-19 does not seem to impact the government's functions to the extent that nothing is progressing. In fact, "business as usual" seems to be the case, although severe disruptions in global supply chains and the sudden decline in the number of domestic and international tourists have had a negative impact on almost all sectors ranging from garment to construction to retail and tourism industries. The impact has led to the closure of many garment factories, small-and- medium enterprise businesses, and those in the entertainment sector.

Schools and universities are not exempted. They were closed in mid-March and have remained closed until now, although some elite private schools, which can meet COVID-19 safety requirements, can reopen in August. In times of COVID-19 crisis, inequalities in different forms and scales have appeared. In the education sector, it was reported that COVID-19 brought to fore educational inequalities caused by digital and economic divide. Specifically, children in poor households generally located in the countryside do not have reliable internet access and appropriate technological devices to effectively continue their online learning.
This crisis, if it continues for a prolonged period of time, will strengthen and reproduce more drastic educational inequalities and economic divide. The government and relevant key stakeholders therefore have to find ways to introduce initiatives that aim to bridge this divide and support the disadvantaged school children and youth.
As Cambodia envisions to become an upper middle-income country over the next 10 years, the country must continue to prioritize education. Thus far, the Ministry of Education, Youth and Sport (MoEYS) has done a great deal to promote the quality of education, both at the general education and post-secondary education levels. There has been an increase in the national budget for education as well as the introduction of a number of large-scale projects funded by the World Bank and other international organizations such as UNICEF. However, issues remain.
One of the issues is the lack of qualified human capital to absorb all the benefits those projects have to offer. For example, in the last five years, MoEYS introduced a $23 million project to strengthen the capacity of the higher education system and promote capacity building, including research capacity, among staff at the Education Ministry and in both public and private higher-education institutions. There was a reported increase in research activities when funds were available; however, quality and sustainability were a major issue. When the project ended a few years ago, enthusiasm and interest in research seemed to have subsided.
Recently, the MoEYS has introduced a larger project spanning six years to promote teaching and research in STEM (science, technology, engineering, and mathematics) and agriculture. While it remains to be seen how this project worth more than $90 million will produce an impact on the quality and interest in STEM and agricultural education and research, sustainability might still be an issue.
Thus, while relying to a great extent on foreign aid and loans to foster the development of quality education and research in Cambodia, the Cambodian government has to simultaneously promote public-private partnership and proactively engage all concerned stakeholders, especially research institutes, think-tanks, and other education-oriented institutions to take the quality of education to new heights.
One critical issue the government has to pay close attention to is the quality of PhD training and education programs offered in the country. In recent years, there have been growing concerns about the quality of local PhD graduates, some of whom do not have the capacity to conduct and publish research—the hallmark of PhD degree holders.
To address this critical issue, an independent and qualified committee should be established. The role of this committee would be to monitor, evaluate, provide advice and consultation, and possibly accredit PhD programs that can meet certain stringent minimum standards and requirements for PhD education. In fact, each university should have the right and freedom to run and establish their own doctoral programs as they have been doing for years; however, given the perceived low quality of training and education at this highest level of education, a MoEYS-supported committee can and should be initiated to remedy the situation.
In addition, while considerable efforts have been made to improve the quality of teaching, learning, and management at all education levels and chiefly in the area of general education, more concerted efforts and initiatives are needed to promote student retention, access to education—especially higher education—and stakeholders' general interest in education.
As COVID-19 has ushered in the digital transformation of education at all levels, joint efforts are required to keep the momentum going and to further embrace technology and distance learning to complement face-to-face learning as soon as the pandemic is over.
In sum, education and research have to be prioritized and more investment needs to be directed to improving the quality of education from primary to higher-education levels. At the same time, serious policy attention and actions have to be taken to nurture and support a vibrant reading and research culture in the country.
No doubt, Cambodia needs a strong human capital to realize its vision and contribute to catching up with neighboring countries as well as achieving sustainable development in the era of knowledge-based economy and Industry 4.0. Education, research, and innovation are vital in the process of reforming and transforming Cambodia into an advanced economy.
Kimkong Heng is a recipient of the Australia Awards Scholarship and a PhD candidate at the University of Queensland. He is also a visiting senior fellow at the Cambodian Institute for Cooperation and Peace and a founding co-editor of Cambodian Education Forum. All views expressed are his own.
Related Articles
September 30, 2021 11:58 AM