Cambodia on Track to Meet the UN's Sustainable Development Goals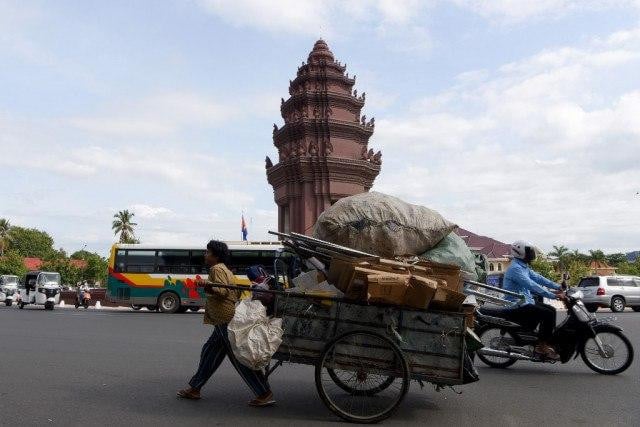 PHNOM PENH—Last year, the United Nations (UN) reported that countries of the Asia-Pacific region are not expected to achieve any of the 17 UN Sustainable Development Goals (SDG) by 2030.
The SDGs are a call to address poverty and improve people's livelihoods through 17goals. These goals were adopted by all UN member states in 2015 with a 15-year plan to achieve them by 2030, according to the United Nations.
Cambodia may be in a better situation than others in the region to meet them, according to Nick Beresford, resident representative for the UN Development Program. "Cambodia as noted has also performed relatively well in the region," he said.
Based on Cambodia's Voluntary National Review released in July 2019, Cambodia was ahead or on track in 61percent of its prioritized (SDG) targets.
"This shows initial progress, albeit with some variations in performance," Beresford said. "For example, SDG 4 on education and SDG 7 on energy are ahead or on track on a clear majority of targets; whereas progress has been slower on others, notably the environmental goals."
The main two challenges constraining Cambodia are "the specifics of the development and operating environment," he said. This includes factors outside of state influence such as climate change, geo-political situations and Cambodia's position with global value chains and international trade, he said.
"[Q]uestions bound up with the effective management and resourcing," Beresford said, which are required to reach those SDGs, are a constraint as well. Addressing this involves issues such as setting up structuring and financing that would be, he said, "amenable to national actions."
Bart Edes, representative for the Asian Development Bank (ADB), urged Southeast Asian countries, he wrote in a blog, "to display sustained leadership and commitment, and to enact supportive macroeconomic policies." Along with increasing spending to reach SDGs and improve business climates, reaching the 17 goals by 2030 will also require involving consumers, NGOs and the business community, he said.
This may be the more important that countries may face economic challenges in the short term, Edes said. "ADB's economic researchers find that many countries in Southeast Asia have experienced export declines and weaker investment," he said.

While they previously forecasted GDP growth of 5.4 percent last year and 5.5 percent, this year, ADB researchers now estimate growth to be 5.2 percent in both years, Edes added.
Related Articles