Cambodia opens Khmer Silk Center to help expand silk production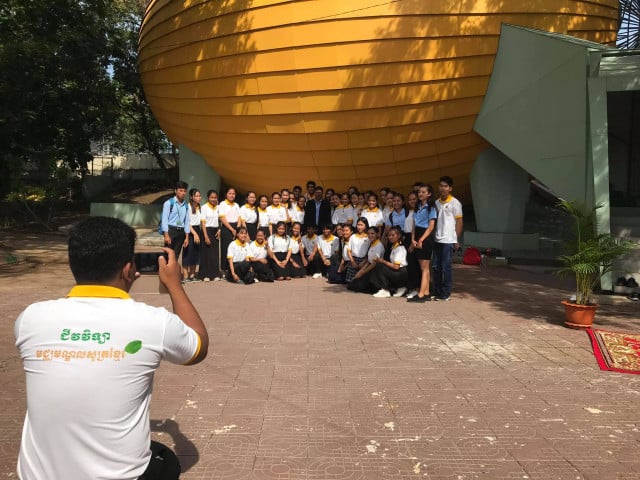 ThmeyThmey
June 5, 2019 4:19 PM
The center is supported by Japanese government and the United Nations Development Programme in Cambodia
PHNOM PENH--Cambodia's Khmer Silk Center was inaugurated Wednesday in Phnom Penh as part of the country's plans to develop silk farming and revitalize the sector in the country.
The ceremony took place at the Royal University of Phnom Penh in the presence of the Minister of Education, Youth and Sport Hang Chuon Naron and Japanese Ambassador Hidehisa Horinouchi. The center, which cost nearly $91,000, was funded through the embassy's Grassroots Grant Project.
"This center can produce disease-free silkworm eggs and distribute them to the farmers," the Japanese Embassy said in a statement posted on Facebook. "We hope that this Center will help to revive Khmer Silk and also become a symbol of our friendship between Japan and Cambodia."
Even though Cambodia has a long history of producing silk, the momentum has been lost in recent decades and today's production only accounts for 1 percent of silk thread required in the country with most thread being imported, said Thay Iengly, deputy head of the university's Biology Department and a member of the Silk Team.
"The focus of the center is to ensure that we can help local silk farmers raise more healthy silkworms using scientific methods, allowing them to produce high quality silks," he told Thmey Thmey.
"Our silk farmers still raise silkworms using traditional method but silkworms continue to suffer a lot from diseases," he said. "That's why our local silk production has been low." Farmers need to learn scientific methods to deal with diseases, which is why the center has started to provide silkworm farmers with training in many provinces and has an expert team touring the country to assist them, Iengly said.
When asked how important developing the silk sector could be for Cambodia, Iengly responded that it would directly benefit the country. "I think increasing capacity in silk production can help our society in many ways.
It can support women, young and older people to have steady income, reduce the number of our migrants [who have to go outside the country to get work] and protect the environment as we will have around 200 hectare of land for mulberry plantations," he said.
"Most importantly, I think, is that this can preserve the tradition of producing silk," he added.
In 2016, the Cambodian government unveiled the National Silk Strategy, aiming to expand the role of the silk sector in the country's economy and in response to the growing demand for silk products domestically and internationally.
Japan and UNDP in Cambodia have been working as the government's partners to help farmers expand silk production and increase production quality.
Related Articles