Cambodia Organizes Int'l Kite Flying Festival in Coastal City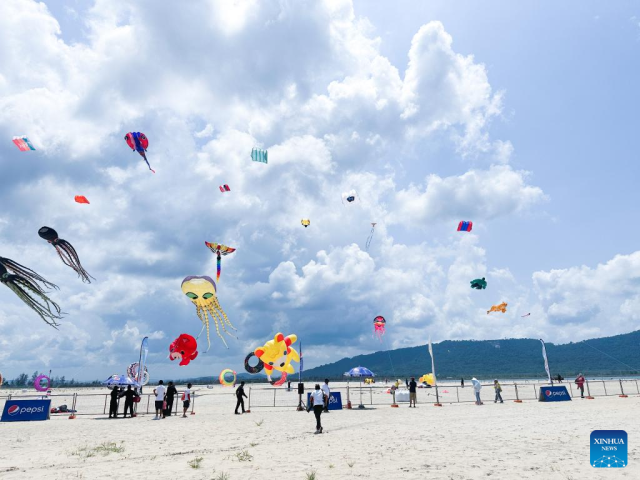 PHNOM PENH -- Cambodia has hosted its first international kite flying festival "SkyFest" in the southwestern coastal city of Sihanoukville, aiming to preserve traditional culture and inspire the younger generation to pursue their dreams.
Under the slogan of "Khmers can fly", the event held on Saturday was presided over by senior minister Ly Thuch, first vice president of the Cambodian Mine Action and Victim Assistance Authority (CMAA).
Thuch said the Southeast Asian country was honored to host kite enthusiasts from nine different countries, saying that each had brought their unique talents and contributions to this extraordinary event.
"SkyFest is not only a celebration of our cultural heritage but also an opportunity to learn from each other and build lasting relationships," he told Xinhua on Sunday.
"The theme 'Khmers Can Fly' reflects not only the grace of our kites soaring high above us but also the aspirations and dreams of the Cambodian people as we continue to make strides towards a brighter future," Thuch said.
The festival brought together kite enthusiasts from Cambodia, China, Indonesia, Vietnam, Thailand, the Philippines, Singapore, Malaysia and France.
Related Articles