Cambodia Plans to Set up a Juvenile Court to Handle Cases Involving Minors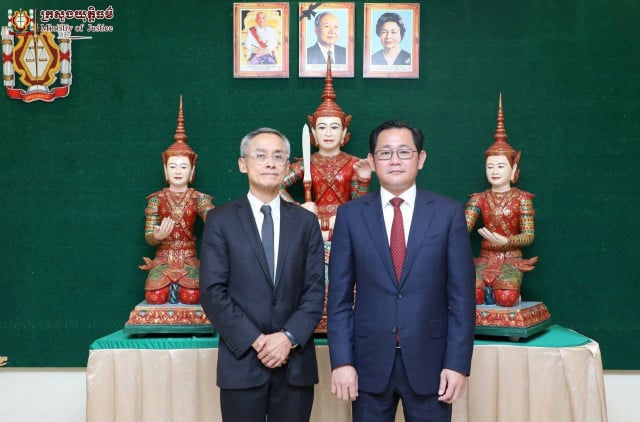 PHNOM PENH — Cambodia on Aug. 25 expressed its intention of setting up a juvenile court that would solely handle cases involving minors who are under 18 years old.
"Cambodia is committed to establishing specialized courts to adjudicate cases in areas such as civil courts, criminal courts, labor courts, commercial courts and juvenile courts," Minister of Justice Keut Rith said during a meeting with Vitit Muntarbhorn, the United Nations Special Rapporteur on Human Rights in Cambodia, according to the ministry's Facebook page.
"But now the human resources in Cambodia, especially the number of judges and prosecutors, have not yet responded to the workload," he said. "So, Cambodia needs more time to establish these specialized courts."
The country's Penal Code states that a juvenile between the ages of 14 and 18 can be held liable for an offense if the circumstances of the offense or the personality of the juvenile require it.
Chin Malin, secretary of state and spokesman for the Ministry of Justice, said that Muntarbhorn had raised human rights issues, including children's rights during his meeting with Rith.
"In order to ensure the rights of children through juvenile justice, there must be a juvenile court," Maline said in an interview on Aug. 26.
In addition to juvenile courts, Cambodia intends to establish other specialized courts in the future to ensure all people's rights to justice, he said. However, the establishment of those specialized courts depends on factors such as human resources, the economy and finance, he added.
During the meeting with Muntarbhorn who was in Cambodia from Aug. 15 through 26, Keut Rith said that the Ministry of Justice has always paid close attention to the implementation of the recommendations of the U.N. Committee on the Rights of the Child.
Those recommendations are currently being reviewed by the Ministry of Social Affairs and the Cambodian National Council for Children, and the Ministry of Justice will be involved in implementing those recommendations, Rith said, according to Maline.
Am Sam Ath, deputy director of monitoring for the human rights NGO LICADHO, said that this court should be set up to ensure the protection of the interests of minors as there is a law for them but no specialized court to handle the cases involving them.
Having one court handling all manner of cases is not really effective, Sam Ath said. Therefore, specialized courts are crucial in Cambodia to ensure the protection of people's rights, he added.
"However, judges and prosecutors must be provided with proper training," Sam Ath stressed.
As he explained, Cambodia has human resources in this field, but people lack professionalism and skills. Training in​ each specialization is important to protect the rights of people and provide them justice, he said.
Currently, there are only two Cambodian courts: the Criminal Court and the Civil Court. All cases involving commercial issues and labor disputes are handled by the civil court.
Cambodia is preparing to launch two additional courts, the Labor Court and the Commercial Court. The Ministry of Justice previously said that both courts could be operational in 2022. However, as of August 2022, these two courts have yet to be established. As for the Juvenile Court, it is not known at this point when it will be established.
Related Articles