Cambodia Pushes to Host RCEP Secretariat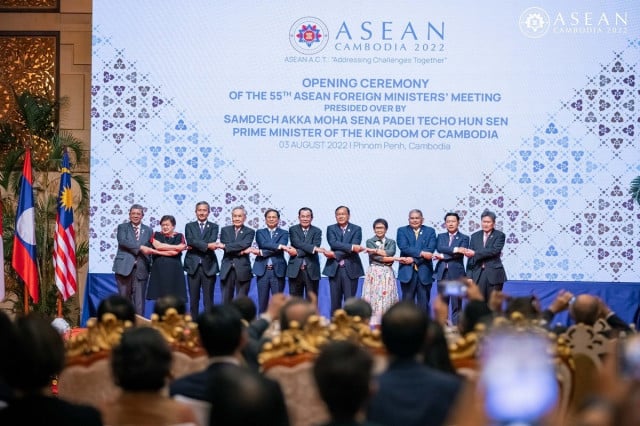 PHNOM PENH – Cambodia is ready and prepared to establish the Regional Comprehensive Economic Partnership (RCEP) Secretariat in Phnom Penh and is waiting for the green light from its partners, Prime Minister Hun Sen says.
"ASEAN has agreed to implement the initiative and various programs under the four main strategies of ASEAN Comprehensive Recovery Framework," he said at the opening ceremony of the ASEAN Foreign Ministers Meeting on Aug. 3.
"In line with the third main strategy, which refers to maximize the potential of ASEAN's international market and broaden economic integration, I believe that a separate secretariat is needed as soon as possible in order to effectively facilitate the implementation of RCEP, which entered into force in January."
Cambodia was ready to host the secretariat, had a location in Phnom Penh and had prepared a detailed proposal.
"I hope that Cambodia will receive more support from ASEAN member states as well as from other partners in RCEP when Cambodia makes the official proposal," he added.
Kung Phoak, Undersecretary of Ministry of Foreign Affairs, said Cambodia is seeking support and from RCEP members and ASEAN.
Commerce Ministry Undersecretary Penn Sovicheat said the ministry, along with the Ministry of Economy and Finance, had prepared internal documents on the secretariat and where it would be built.
"Hosting the RCEP secretariat in Phnom Penh, Cambodia, will definitely bring a lot of benefits for Cambodia and easier access for RCEP members as well boost economic growth and accelerate trading activities," Sovicheat said.
"Now what we have to do is wait for approval and support from ASEAN members and other partners in RCEP."
RCEP is a free trade agreement among Asia-Pacific nations, such as Australia, China, Japan, South Korea and New Zealand and ASEAN member states, including Brunei, Cambodia, Indonesia, Laos, Malaysia, Myanmar, the Philippines, Singapore, Thailand and Vietnam.
One of the world's largest free trade agreements, RCEP shares 30 percent of global GDP, amounting in $38,813 billion.
Hong Vanak, an economic researcher at the Royal Academy of Cambodia, said the secretariat proposal was a good initiative to demonstrate Cambodia's ability and capacity within ASEAN and RCEP.
"Cambodia will be able to show its preparation and facilitation ability as well as the country's capability to get important and other related work done for the organization," he said.
It would also improve the relationship of Cambodia within the ASEAN and RCEP frameworks, which would show Cambodia's prestige and ability on international forums.
"If we are capable of showing our ability to host or to prepare for such important forums here and can run the process smoothly, we will be valued even more on the international stage," he added.
"When the members arrive in Cambodia for meetings, they will be able to get a full view of the country's quality and ability to host important forums and the potential of its existing goods.
"All of these can encourage the partners to sign more agreements on trade or to boost existing trade agreements, as Cambodia has been doing for ASEAN meetings as the Chair," he said.
Related Articles