Cambodia reaffirms commitment to combating all forms of transnational crime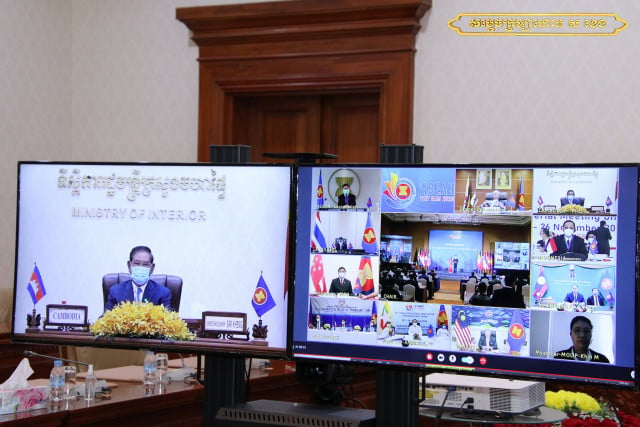 Xinhua
November 27, 2020 7:26 AM
PHNOM PENH-- Cambodia's Interior Minister Sar Kheng said on Thursday that the kingdom is committed to working with all ASEAN member states to fight all forms of transnational crime, especially drug trafficking.
Kheng made the remarks during the 14th virtual ASEAN Ministerial Meeting on Transnational Crime, which was hosted by Vietnam.
"I would like to take this opportunity to reaffirm Cambodia's commitment to engaging with all ASEAN Member States within the spirit of close cooperation and cohesive partnership, to fight against transnational crime at all costs and in all forms through its existing mechanism at the national level, as well as bilateral and multilateral mechanism such as the Mekong-Lancang Cooperation," he said.
"I am confident that our strong and credible partnership in the region will be an impetus to address all challenges and threats of transnational crime as well as to maintain security and safety in ASEAN and in the world," he said.
Kheng, who is also a deputy prime minister, said although the COVID-19 outbreak has caused impediments and restrictions on cross-border travel in the country, in the region and in the world, illicit trafficking of narcotic drugs is still a burning and cross-cutting issue.
He said in the first nine months of 2020, the Cambodian authorities in its crack-down operations on drug cases, detained more than 13,000 suspects, most of which were importing cases into Cambodia through land border.
"According to specialized investigations and past experiences, the Mekong subregion, especially the Golden Triangle, remains a hub for the illicit production and trafficking of narcotic drugs, including the synthetic drugs for criminals' distribution within the region and in the world," he said. "These acts have resulted in serious impacts on the economic and social development, which requires urgent, practical measures to reduce the hazardous risks."
Kheng said Cambodia is a victim country of the narcotic drugs and a transit for the perpetrators, as the kingdom is not a drug-producing country.
ASEAN (Association of Southeast Asian Nations) groups Brunei, Cambodia, Indonesia, Laos, Malaysia, Myanmar, the Philippines, Singapore, Thailand and Vietnam.
Related Articles