Cambodia Receives COVID-19 Vaccine Doses from Poland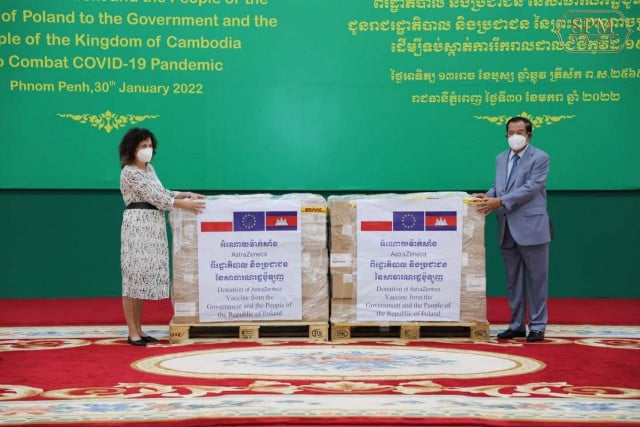 This will help the country continue its vaccination campaign across the country, Hun Sen said
PHNOM PENH--Cambodia on Jan. 30 received 300,000 doses of AstraZeneca vaccine donated by Poland.
Speaking at the handover ceremony, Prime Minister Hun Sen thanked Poland's government and people for these coronavirus vaccine doses.
"Poland's AstraZeneca-vaccine aid will make a significant contribution to the fight against COVID-19, especially for the national booster-vaccination campaign, for Cambodians across the country," he said during the event that was livestreamed on his Facebook page on Jan. 30.
Hun Sen stressed that Cambodia considers coronavirus vaccination as a strategic priority and therefore greatly appreciates countries sharing vaccines with each other in an effort to accelerate global vaccination.
European Union Ambassador Carmen Moreno, who attended the ceremony, said that the pandemic demands cooperation and solidarity, and that the European Union and its members states stand together with Cambodia during this challenging time.
"We will continue to work together to ensure a sustainable and strong economic recovery and to mitigate the impact of the pandemic on human lives, jobs and livelihoods," she said.
Moreno then praised the Cambodian government for the efforts made to improve the capacity of the country's healthcare system to cope with the pandemic and to provide the population with universal access to preventive measures. "Today, Cambodia is one of the most vaccinated countries in the world, which is on the way to safe reopening," she said.
During the ceremony, Hun Sen called on people in the country to continue to take part in the efforts to prevent the spread of COVID-19, to learn to live in a new way, and especially to implement the preventative measures consistently. These efforts include the vaccination campaign, which is viewed by the Cambodian authorities as a key measure to curb the pandemic and re-launch socio-economic activities in a safe and normal way. As of Jan. 29, more than 13.7 million people had received two doses of vaccine, more than 5 million people had received three doses, while more than 440,000 people had gotten a fourth dose.
As he thanked Poland for the vaccine doses, the prime minister pointed out that Cambodia and the Republic of Poland were old friends, having established diplomatic relations in 1967 and maintained good terms in the education sector, and socio-economic and trade relations.
As chair of ASEAN in 2022, Cambodia is ready to promote cooperation in all fields, friendship and solidarity between Cambodia and Poland, and ASEAN and Poland, as well as between Cambodia and the European Union, and ASEAN and the European Union in a more robust and cohesive way, Hun Sen added.
As of Jan. 29, Cambodia had recorded 386 cases of the COVID-19 variant Omicron transmitted within the country, with no death due to the variant, according to data provided by the Ministry of Health. Meanwhile, the total number of deaths officially linked to COVID-19 stands at 3,015, with 121,299 cases recorded since the pandemic began.
Related Articles