Cambodia Receives Two Million Doses of Pfizer Vaccine From U.S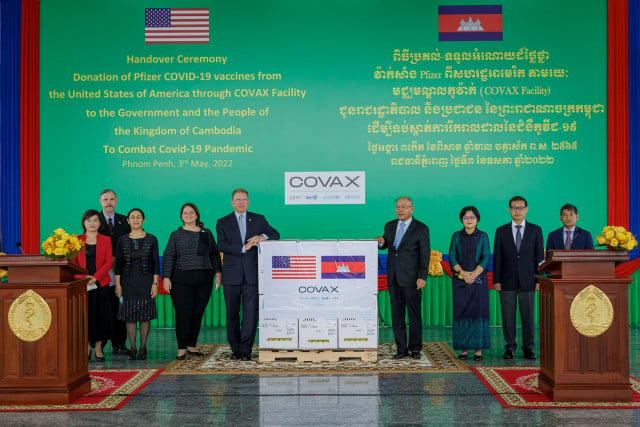 Since the early days of the pandemic, the Kingdom received more than 53 million doses of COVID-19 vaccine, with eight million doses in stock as of the end of April 2022
PHNOM PENH – Two million doses of Pfizer vaccine donated by the United States arrived in Cambodia on May 3, to help prevent dangerous new variants from spreading.
Patrick Murphy, U.S. Ambassador to Cambodia said the United States considers health security a top priority and will continue to work with COVAX Facility partners to ensure that people around the world have access to vaccines.
COVAX is a worldwide initiative launched in February 2021, whose goal is to guarantee equitable access to COVID-19 vaccines among its 184 member states.
"With this contribution, the United States reaffirms its longstanding commitment to the health and well-being of the people of Cambodia," Murphy said.
Minister of Health Mam Bun Heng said that Cambodia has received 53 million doses of COVID-19 vaccines which include bilateral assistance, assistance at the COVAX Facility, and purchase orders.
As of the end of April, Cambodia had more than eight million doses of vaccine in stock for further injection to the people, he added.
May 3, 2022 marks the second direct vaccines' donation from the United States to Cambodia, through the COVAX Facility. The first donation was made on July 30 and August 2, 2021, with more than one million doses of Johnson & Johnson vaccine.
Bun Heng said that Cambodia is expected to receive around seven million doses of Pfizer vaccine through the Covax Facility, which will represent the equivalent of 20 percent of the population who can get booster shots with the American vaccine.
Altogether, the United States has provided more than three million vaccine doses to the Kingdom, $16 million in supplemental assistance to Cambodia through the United States Agency for International Development, and critical technical assistance through U.S. public health agencies, supporting surveillance, contract tracing, public awareness capacity, and research to stem the spread of COVID-19.
Moreover, U.S. efforts have reached more than ten million Cambodians with risk communication materials via television, social media, radio, SMS messaging, and billboards.
The support has improved laboratory capacity, strengthened healthcare workers' skills, and helped to mitigate the economic impact of the pandemic.
As of May 2, Cambodia has inoculated at least two doses of vaccine to 14.2 million people, equivalent to 93.42 percent of the 16 million population.
Related Articles