Cambodia Records 659 New Cases of COVID-19 in One Day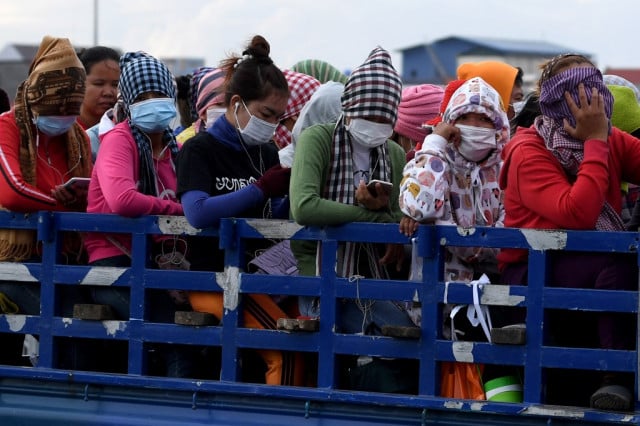 As Phnom Penh orders businesses considered high risk to remain close for two more weeks and the vaccination campaign continues in the country

PHNOM PENH--Cambodia on June 20 registered 659 new COVID-19 cases with 52 involving people who came from abroad, according to the Ministry of Health.

In its daily media update, the ministry said that the disease had claimed the life of 17 more patients, bringing the death toll to 431 since the start of the pandemic in the country.

In the meantime, 621 coronavirus patients have made a complete recovery and been discharged from hospital.

These latest infections have brought the total number of COVID-19 cases nationwide to 42,711 with 37,489 recoveries, the ministry said in its update.

More administrative measures introduced in Phnom Penh

On June 19, the Phnom Penh municipal administration issued a decision to the effect that all businesses deemed high risk for COVID-19 must remain close for an additional 14 days from June 20 through July 3.

According to the decision, these businesses include resorts, museums, parks as well as club type of businesses such as casinos, karaoke parlors, nightclubs and beer gardens. Massage centers, cinemas, theatres, gyms, sports centers and education centers such as public and private vocational training schools also must remain close.

In addition, any private gathering of more than 15 people is prohibited through July 3.

This decision was issued as many new COVID-19 cases continue to be detected daily in the country. However, the municipal authorities no longer provide numbers of daily infections in the capital since May 23.

The vaccination campaign continues

Meanwhile, the government has been rushing to vaccinate people in the hope of slowing down the spread of the disease as two new variants of concern—Alpha (B.1.1.7) and Delta (B.1.617.2)—have been detected in the country.

Li Ailan who heads the World Health Organization in Cambodia has cautiously maintained that the recent detection of the new variant of concern Delta may be an indication of the country's good monitoring system.

However, she called for more measures to be taken to quell this variant and prevent it from spreading further.

"It reminds us of a dangerous COVID-19 situation that we are facing," Li wrote in a tweet on June 19. "We need to move more effectively to suppress virus transmission and get more vulnerable people vaccinated quickly."

As of June 19, a total of 3,367,870 persons had been vaccinated in the country, that is, 33.11 percent of the authorities' initial 10-million target. Among them, 2,702,329 persons have already received their second doses of the vaccines.
Related Articles