Cambodia Reports 179 New COVID-19 Cases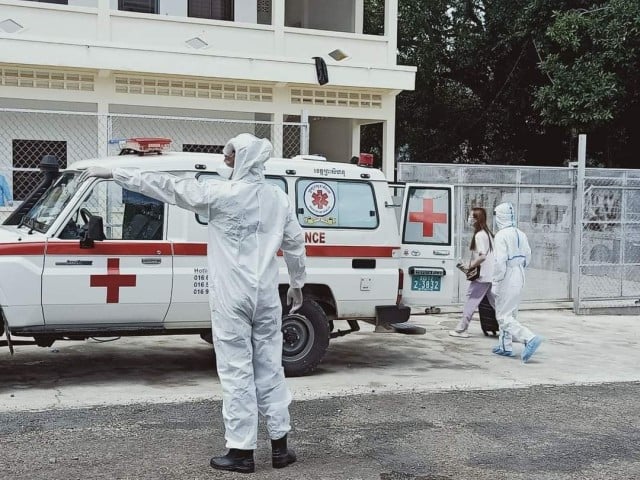 Sao Phal Niseiy
March 27, 2021 9:19 AM
The health ministry also indicates that a recent death was mistakenly attributed to the disease

PHNOM PENH--The health authorities on March 27 reported that 179 new cases of COVID-19 had been detected, which is the highest number of cases identified in the course of two days since the start of the outbreak.
"There were 179 cases of COVID-19 in total found on March 26," said Or Vandine, spokesperson for the Ministry of Health, in a press statement.
Among them, 178 cases were associated with the Feb. 20 community outbreak, she said: 143 cases were identified in Preah Sihanouk Province, 27 cases in Phnom Penh, four cases in Kandal Province, three cases in Prey Veng Province, and one case in Siem Reap Province. All the patients have been placed under treatment, Vandine added.
The last case detected involves a 31-year-old Cambodian man who arrived in Cambodia on March 25 from Japan via South Korea.
In the meantime, 58 patients have been reported to have made a complete recovery—56 of them had been infected during the Feb. 20 community outbreak.
These latest infections have brought the total number of cases to 2,147 in the country since the start of the pandemic a year ago. Among them, 1,132 patients have made a full recovery and eight patients have died of the disease.

In a separate statement issued early in the day on March 27, the Sub-Committee on Research and Monitoring of Suspected COVID-19 had announced that a ninth death linked to COVID-19 had been identified in the country.

Youk Sambath, secretary of state for the Ministry of Health, could not be reached for comment regarding this case while Preah Sihanouk provincial administration's spokesperson Kheang Phearum had declined to comment, indicating that the Ministry of Health would soon release an official statement regarding the death of this patient.
In that statement issued in late afternoon on March 27, the Ministry of Health said that the Cambodian woman who had tested positive for the coronavirus had died at the Preah Sihanouk Referral Provincial Hospital on March 26 following severe gastrointestinal bleeding.
"Based on the conclusion of medical experts, the 43-year-old patient died because she lost a lot of blood and not due to COVID-19," Vandine said in that official statement. The patient actually died at the hospital following severe gastrointestinal bleeding and not due to the coronavirus, she stressed.
Cambodia pushes forward with a vaccination campaign for senior citizens in Phnom Penh
In an effort to stem the spread of the coronavirus, the Cambodian government has expedited the vaccination drive for older people in a coronavirus hotspot: Phnom Penh.
"As the infection situation especially in Phnom Penh has not slowed down, Prime Minister Hun Sen decided to distribute 10,000 additional doses of CoviShield vaccine to vaccinate in Phnom Penh 5,000 senior citizens who are older than 60 years old in addition to our current vaccination plan for 55,700 persons," she said in a separate press statement on March 27.
In addition to Cambodians, the current vaccination campaign with the CoviShield vaccine has included foreign diplomats and officials working for international organizations, Vandine said.
Among them, 741 staff and diplomatic officials of 18 embassies in Phnom Penh had received their jabs as of March 26 while 1,671 persons working with 44 organizations under the umbrella of the United Nations are expected to be vaccinated between March 26 and 31, she said.
Moreover, 443 people who work for multilateral and bilateral organizations are set to be vaccinated from March 30 on, Vandine added.
As of March 26, Cambodia had inoculated over 350,000 persons across the country, including more than 230,000 civilians in priority groups and more than 110,000 military personnel, using the Sinopharm and Covishield vaccines.
Related Articles