Cambodia Requests COVID-19 Vaccines from India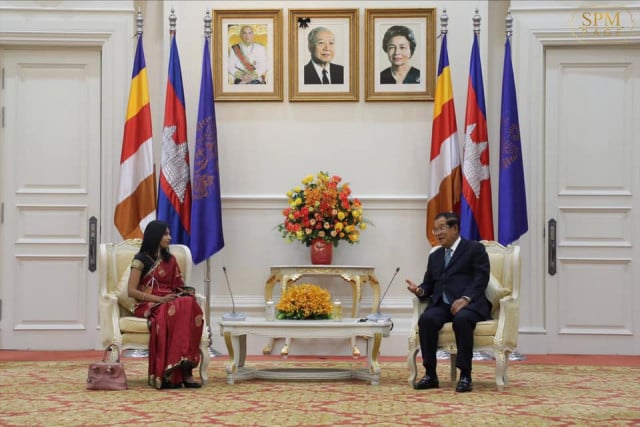 Phoung Vantha
January 18, 2021 8:50 AM
The Indian Ambassador to Cambodia met with Prime Minister Hun Sen to discuss the possibility of India donating its COVID-19 vaccine, Covaxin, to Cambodia.
PHNOM PENH--Prime Minister Hun Sen said on Monday (Jan. 18) that he has requested a COVID-19 vaccine being developed in India, although it is unclear whether Cambodia intends to purchase or seeks them as donations.
Nor is it known how many doses Hun Sen has requested, but this comes shortly after Hun Sen announced he would accept 1 million doses of the Sinopharm vaccine from China—a U-turn from his initial plan to await a vaccine approved by the World Health Organization.
Hun Sen's request was made to the Indian Ambassador Devyani Uttamkhbragade on Jan. 18, as India has already produced its own COVID-19 vaccine and plans to inject its population of more than 300 million people.
India's Covaxin has been developed by the company Bharat Biotech India in collaboration with the Indian Council of Medical Research's National Institute of Virology. The Indian government has already ordered 5.5 million doses of Covaxin.
In January 2021, India began its COVID-19 vaccination program with two approved vaccines; Covishield developed by Oxford's AstraZaneca team and Bharat Biotech's Covaxin. So far, some 224,301 people have been vaccinated, with roughly 17,000 of them vaccinated on Jan. 17 alone.
The COVID-19 pandemic has severely affected India, where some 10.6 million cases have been recorded and 152,419 people have died.
Cambodia meanwhile has recorded just 439 confirmed COVID-19 cases, but so far—as of Jan. 18—386 people have recovered and nobody has died of the virus.
Related Articles