Cambodia Responds to Australia's Comments regarding the Recent Wave of Arrests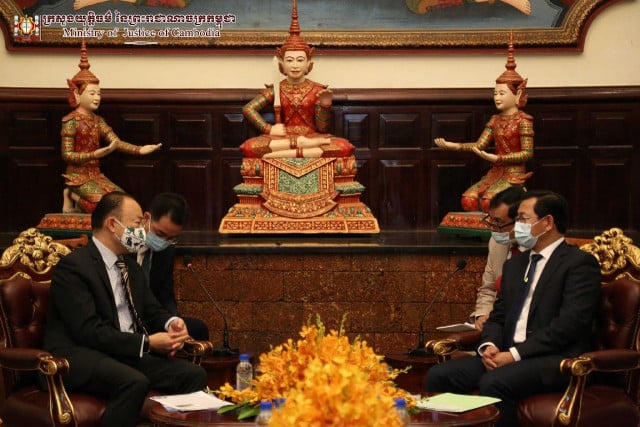 The authorities must enforce public order, Justice Minister Koeut Rith says
PHNOM PENH—The Ministry of Justice on Sept. 24 released the response that the Cambodian government made to Australian Ambassador Pablo Kang who recently expressed concern regarding the recent arrests of activists, environmentalists and human rights defenders in the country.
Kim Santepheap, secretary of state at the Ministry of Justice, said that, during a meeting with Kang on Sept. 22, Justice Minister Koeut Rith told him that Cambodia adheres to the rule of law and that the authorities must take action to protect social security and public order.
"The arrest of any individual by the competent authorities was in accordance with the laws of Cambodia," Rith said, according to Santeheap who posted the minister's comments on his Facebook page. "Gathering in the streets to protest the release of an individual is putting pressure on the courts and law enforcement, which is not the legal way and deviates from the principle of the rule of law."
Kang tweeted on Sept. 23 that, during their meeting, "[I] raised at length our concerns over recent spate of arrests of activists."
On July 31, Rong Chhun—leader of the Cambodian Confederation of Unions and a representative of the Cambodian Watchdog Council—was arrested following a visit to the Cambodia-Vietnam border and comments he made regarding alleged border infringement by Vietnam. His arrest prompted demonstrations, leading to further arrests.
According to a report by LICADHO—a human rights NGO based in Cambodia—19 artists, activists and human rights defenders have been detained, arrested and sentenced since July 2020.
This led to the United Nations' Spokesperson of the High Commissioner for Human Rights to issue a statement on Sept. 11 calling on the Cambodian government to put an end to measures taken against human-rights and environmental-rights activists over the last few months.
"The current situation marks a deepening of the Government's intolerance to dissent and repression of the rights to freedom of expression, peaceful assembly and association," the statement read.
During their meeting, Rith told Kang that defamation and misrepresentation of the border issue with the intention of inciting social unrest is illegal and destroys the peace and stability of the country… and that the rights and freedoms of the individual must be exercised within the framework of the law, Santepheap reported.
Rith and Kang also discussed that Australia will continue to assist Cambodia in the implementation of its recently adopted Anti-Money Laundering and Combating the Financing of Terrorism legislation and this, for the benefit of both countries, Kang said in his Tweet.
Related Articles