Cambodia Rolls Out Vaccines to Younger Children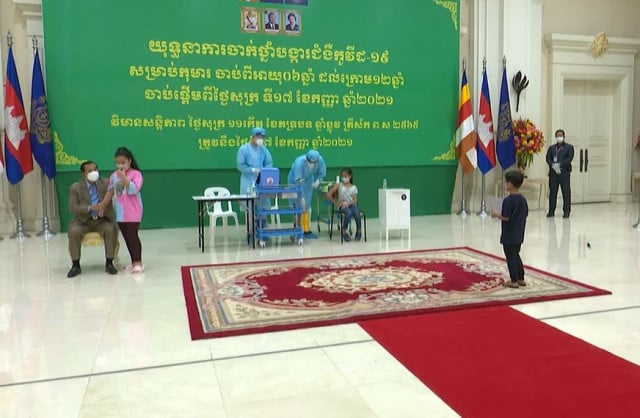 September 17, 2021 8:19 AM
Hun Sen says vaccination promotes children rights
PHNOM PENH--Cambodia begins on September 17 to roll out COVID-19 vaccines for children aged under 12 in Phnom Penh, Kandal, Sihanoukville and Koh Kong province.
Speaking during a ceremony marking the launch of the vaccination, Prime Minister Hun Sen said vaccination promotes the rights of children, namely the right to life, the right to health as well as the right to education.
"In addition to these three rights, getting vaccines is their important contribution to building a herd immunity as the efforts to fight against COVID-19," Hun Sen said.
According to the Ministry of Health, two doses of Sinovac vaccines will be provided to children aged 6-12, with a 21-day interval between the first and second doses. Vaccinations will be conducted at locations designated by the ministry.
The other provinces will begin vaccination on September 18.
The rollout for children was announced by the prime minister on September 16 after the campaign for adolescents was approaching its end.



Hun Sen said the next phase of the vaccination campaign is so that children aged under 12 will be able to get back to school.
"Without vaccinating children between the ages of 6 and 12, we will not be able to reopen primary schools, because this age is within the primary level," Hun Sen said.
"We have only opened secondary schools, so it will be difficult. Moreover, the vaccine has been studied in many countries and has already been given to children under the age of 12."
The campaign will be officially launched on Friday at the Peace Palace, the Office of the Prime Minister, and Hun Sen will attend the event.
The Prime Minister said there will be another vaccination campaign for children aged three to six, but the focus now to provide jabs for primary students.
According to Reuters, China has approved Sinovac vaccines to be used for children between three and 17 years of age. Singapore, Japan, the Philippines, and Hong Kong have inoculated those aged 12 and above.
WHO's Strategic Advisory Group of Experts (SAGE) has recommended the Pfizer/BioNTech vaccine be used for adolescents aged 12 and above. However, it is critical that children continue to receive the recommended childhood vaccinations.
In Cambodia, 87.38 percent of the targeted 1,966,931 adolescents have had both vaccine doses. This success has led to the decision to resume face-to-face education at secondary schools.
On September 15, 2021, secondary students were permitted to study in physical classes for the first time after the latest school closure in late March after the 20 February community outbreak.
However, any school that sees more than 10 percent of its students infected with COVID-19 will have to close again, governor Khoung Sreng said.
"In case there are COVID-19 infections in each class, we will shut down that class and require those who have been in direct contact with any COVID-19 patient to be tested and quarantined," he said.
Meanwhile, the reopening of schools in Siem Reap city and four districts in Siem Reap province has been postponed by a week due to a spike in cases following the announcement of a seven-day city closure from September 11 made by Siem Reap provincial governor Tea Seiha.
Before the reopening, 24 out of 10,443 teachers tested positive, but only one of them had not been vaccinated, reportedly due to health problems.
To date, Cambodia has recorded 102,136 cases, of which 17,428 were imported. Of the total, 95,810 people have recovered while 2,078 have died.
A first dose has been given to 11,506,197 people, including 1,718,673 adolescents, while 9,890,449 people, including 1,167,520 adolescents have had their second dose and 799,908 people had a third dose, as of September 15.
Related Articles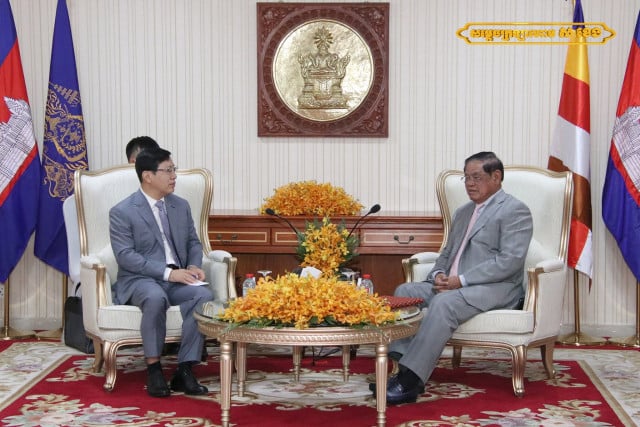 September 28, 2022 12:57 PM