Cambodia Says It Has Complied with the UN Sanctions on North Korea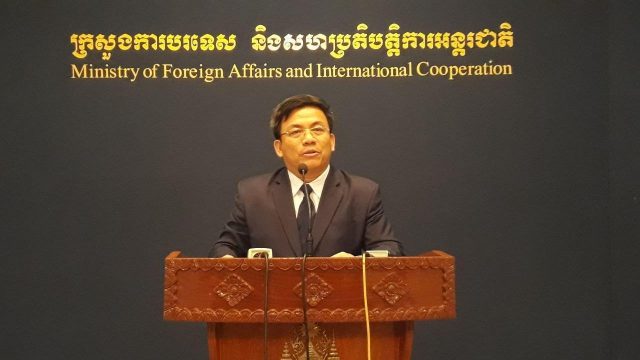 Romdoul Chetra
July 3, 2020 10:42 AM
The government denies a report citing Cambodia as violating them

PHNOM PENH—Cambodia has denied information released on July 1 by the Institute for Science and International Security (ISIS), which included Cambodia among 62 countries that have violated the United Nation Security Council (UNSC) sanctions against North Korea.

Koy Kuong, spokesman for the Ministry of Foreign Affairs and International Cooperation, rejected the report's finding, stressing that Cambodia has fully complied with the UN resolutions on sanctions against North Korea by cracking down and closing North Korea related businesses in the country.

"Now let them (ISIS) find if there are any North Korean companies in Cambodia since we have implemented all the UN resolutions…all the time," Kuong said in interview on July 2. "And they want to know whether the DPRK is still in business in Cambodia, please [ISIS] help point [that] out," Kuong stressed.

The ISIS report cited the annual report of the UN Panel of Experts on North Korea for the period of Feb. 2, 2019, to Feb. 7, 2020. Established in 2009, the panel periodically reports its findings and recommendations on the implementation of the UN Security Council's resolutions on North Korea that have been passed since 2006.

According to the ISIS report, Cambodia was specifically among 26 countries and territories, which were involved in business and financial-related sanction violations. This included hosting income-earning North Koreans working in restaurants, having business arrangements with designated North Korean entities, and allowing North Korean-operated restaurants to open.

On Jan. 20, the Cambodian government sent a letter to the United Nation Security Council to report the closure of North Korean businesses and restaurants inside the country. Twelve companies and eight restaurants have been closed while the Angkor Grand Panorama—a 3D museum funded by Pyongyang in Siem Reap City—was also closed.

In addition, 115 North Korean workers were deported.

In the ISIS's report, China, which is North Korea's top trading partner and the regime closest ally, was listed as having the highest number of alleged violations with over 60 cases. China's special region Hong Kong stood in second place with more than 20 cases, followed by Sierra Leone, Russia and Indonesia with more than 10 cases.

Apart from Cambodia, six ASEAN member states have allowed North Korea to do business in their own country. They are Indonesia, Myanmar, the Philippines, Thailand, Vietnam and Singapore where North Korean leader Kim Jong Un met US President Donald Trump in 2018.
Related Articles