Cambodia Scores Cassava Deal with China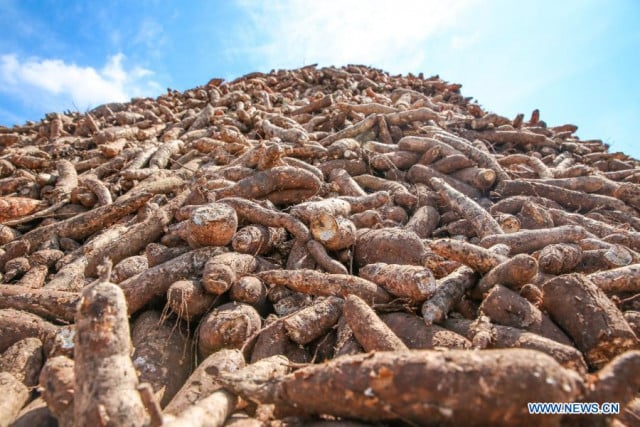 Farmers struggle as crop fetches low prices
PHNOM PENH--Cambodia is set to export 400,000 tonnes of dry cassava to Guangxi Zhuang Autonomous Region in China a year from March.
The Cambodian Commerce Ministry signed the export agreement with the General Department of Trade Promotion in Guangxi Zhuang on Feb. 24.
Commerce Minister Pan Sorasak said Cambodia could export up to 400,000 tonnes of dried cassava to the region per year.
The minister and Guangxi Zhuang governor Lan Tainli encouraged Chinese companies to continue to prepare a memorandum of understanding on the export of rice, corn, mangoes, bananas and other potential Cambodian products to the Chinese market, especially to this province.
The minister said cooperation between Cambodia and China has continued to expand through the leadership of both governments, as well as following the signing of the ASEAN and China Free Trade Agreement, the Regional Comprehensive Economic Partnership (RECP) as well as the Bilateral Free Trade Agreement between China and Cambodia (CCTFA).
"These have paved the way for a strategic partnership and boosted economic and trade cooperation between Cambodia and the People's Republic of China," Sorasak said.
Lan Tianli said he strongly supported collaboration between both countries as China is the largest market open widely for ASEAN members.
"China is ready to import more quality and standard agricultural products, and today the signing of a memorandum of understanding and a contract to buy dried cassava is a practical day to implement the guidance of China's top leaders," Lan Tianli added.
He said trade in 2021 between Cambodia and Guangxi reached about $166 million, up 63.8 percent on 2020.
Cambodia exported almost three million tonnes of cassava to the international market in 2021, an increase of about 21 percent from 2020, according to the Ministry of Commerce.
Despite the increase, farmers see little hope that the price of cassava will rise, pointing out that they have to deal with many problems.
Nhorn Nhornheak, a 60-year-old farmer in Oddar Meanchey province, said he and other villagers have always faced many challenges including insects, the cost of fertilizer and low prices for their harvest in the past few years.
"The price of fresh cassava is just around 200 riel per kilogram. It's so cheap that we can generate less income from each year of harvest," Nhornheak said.
With about five hectares of cassava plantation, he said that the price depended on others and no authority stepped in to provide any fruitful solution.
"I hope it will be more expensive next year," he said, "From the beginning, we did not expect anyone to help us, but I wish the price would be around 700 riel per kilogram."
Another 34-year-old farmer Thet Sokha who lives in Kratie province raised the same concerns over the price of cassava, which has been exported on a large scale only to Vietnam.
"Not only the technical problem but also the low price of cassava are our challenges now. This is because we only export it to Vietnam and the brokers always try to change the price," Sokha said.
Sokha said he would be happy if there were more cassava export markets, especially to China. He hoped that the price would be reasonable so that it could help farmers and their families, especially to pay back debts.
"I am happy if the government can provide more help by increasing the price to help farmers like us and increasing export to China because we will not depend only on the Vietnamese market," he said
Related Articles