Cambodia seeks more Japanese investments amid EU trade threats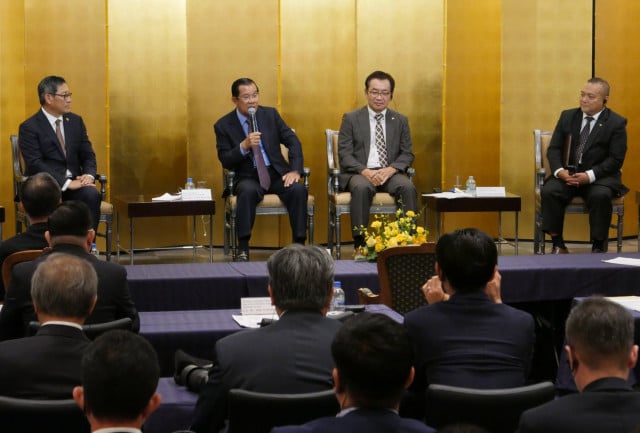 Thmey Thmey
May 29, 2019 7:50 AM
Prime Minister Hun Sen reaches out to Japanese businesses during his visit to Tokyo

PHNOM PENH--Prime Minister Hun Sen Wednesday called on Japanese business people to consider Cambodia as a country offering highly favorable conditions to foreign investors.
Speaking during a seminar on Investing in Cambodia held in Tokyo, Hun Sen said that Japanese business people are in an ideal position to take advantage of Cambodia's production conditions such as in agro-industry, and turn the country's raw materials into finished products to be exported to Japan and other countries across the globe.
"As the head of the government, I would like to welcome all Japanese business people and investors who have already chosen or considered choosing Cambodia to start their business," Hun Sen said during the seminar, which was organized by the Council for the Development of Cambodia in cooperation with the Japan External Trade Organization and Mizuho Bank.
Hun Sen, who is in Japan to take part in an international conference on the future of Asia, invited Japanese investors to visit Cambodia to learn and explore investment opportunities. "I also would like to invite all to come to study Cambodian potential and opportunities in order invest and make maximum profits from our cooperation."
The prime minister then assured people in the audience that his government would maintain, he said, "a favorable business environment, stability, peace, macroeconomic stability as well as a legal framework, which is transparent and accountable."
Noting that he has met with more Japanese investors than with any other foreign investors even though Japanese business investment still is not the largest foreign business investment in the country, Mr. Hun Sen said that bilateral trade between Cambodia and Japan has increased significantly with the total trade volume now reaching $2 billion.
In terms of foreign direct investment, Japan's investment in Cambodia reached $1.6 billion in 2017, becoming the third largest foreign investor, according to a report of the Council for the Development of Cambodia.
Prime Minister Hun Sen's appeal to the Japanese business community comes amid rising concern over the China's growing influence in the country and the European Union's threat that Cambodia's trade preferential "Everything But Arms" (EBA) terms may be revoked due to what is viewed as the recent corrosion of democracy and human rights in the country.
The EU launched in February the process that could lead to the EBA's temporary suspension, which could take effect within 18 months of the start of the review process. If this was to happen, Cambodia could register a huge economic loss with exports dropping by $600 million, according to the World Bank, and lead to a social crisis due to massive unemployment in the garment sector caused by factory relocation.
Related Articles