Cambodia Sells Mine Detecting Dogs to Kenya and South Sudan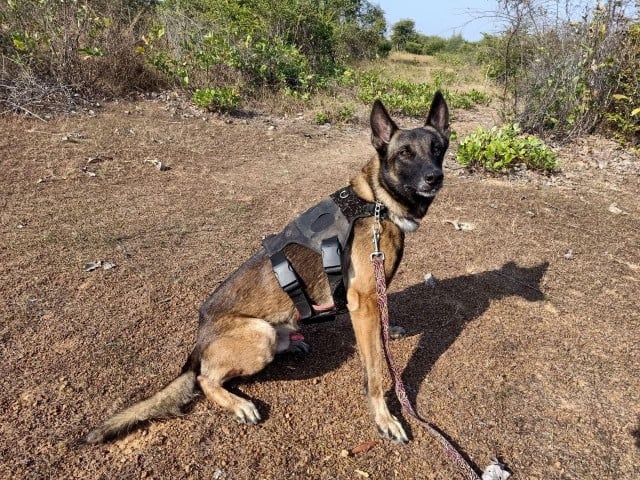 Director of Cambodian Mine Action Center Heng Ratana said that he hopes Cambodian trained mine detecting dogs will help in the global efforts against landmines and unexploded ordinance
PHNOM PENH--Six Cambodian mine detector dogs were sold to Kenya and South Sudan on July 28, according to Cambodian Mine Action Center (CMAC) director Heng Ratana, who added that Cambodia has become a supplier of mine detector dogs rather than a buyer in recent years.
"We are proud to be able to train our own dogs and now sell them abroad, when we previously bought or asked for from other countries," he said. "As our team is willing to strengthen the capacity of our human resources in the field of mine detection, which we can keep training dogs for domestic use until they are ready to export."
Ratana said that four mine detector dogs were sent to South Sudan, while two were sent to Kenya earlier today. Prices range from $3,500 to $20,000, he said, noting that this is more than the $10,000 Cambodia could previously sell mine detecting dogs for. Another four sales are already being negotiated, he added.
The sale of dogs on the international market not only helps the economy but also underscores Cambodia's ability to assist in the global efforts against landmines and unexploded ordinance by becoming an international supplier, he added.
In 2019, Cambodia sold four mine detector dogs to Sudan and Turkey.

Additional reporting by Phoung Vantha
Related Articles