Cambodia Sets Shared Growth Target as Europe-Asia Summit Host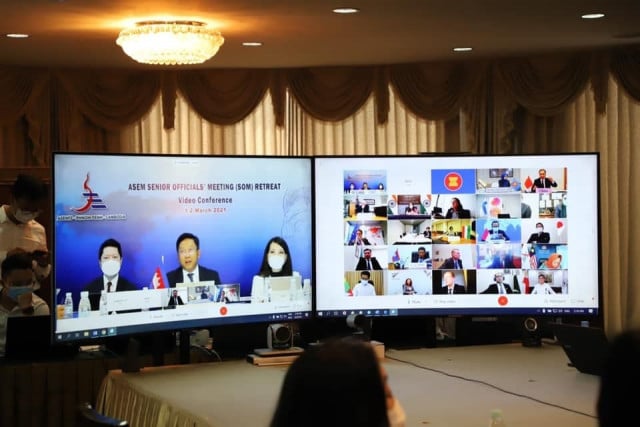 Torn Chanritheara
March 5, 2021 5:01 AM
13th ASEM meeting rescheduled to last quarter of this year
PHNOM PENH--A top-level meeting in Cambodia of Asian and European countries, postponed last year because of the pandemic, will be held at the end of this year.
The Foreign Ministry said the decision was made when senior officials of Asia-Europe Meeting (ASEM) met at a retreat on March 1 and 2.
The ministry said last November's meeting was put off because of the need for it to be face-to-face. It will be held last quarter of 2021.
It will be the 13th ASEM meeting, which is held every two years, and the first time Cambodia has been host.
"The retreat unanimously supported Cambodia rescheduling the ASEM13 to the last quarter of 2021 due to unabated risks posed by COVID-19," the ministry said.
"Moreover, the postponement is to ensure not only the safety of ASEM leaders and those attending the summit but also their meaningful interactions as well as frank and constructive exchange of views on regional and global issued of common interest that can only be done in a physical setting."
It said Cambodia received a high level of appreciation from senior officials of ASEM for its continued commitment to hosting a safe and successful summit in a physical format and maintaining the momentum of the ASEM process despite the COVID-19 pandemic.
Cambodia has proposed the theme of "Strengthening Multilateralism for Shared Growth" for the event and plans to organize several sideline meetings.
ASEM is an intergovernmental arrangement established in 1996 to foster dialogue and cooperation between Asia and Europe.
It comprises of 53 partners: 30 European and 21 Asian countries plus the European Union and the ASEAN Secretariat.
ASEM's website says its meetings let members address political, economic, social, cultural, and educational issues of common interest in a spirit of mutual respect and equal partnership.
Related Articles