Cambodia Spending $1 Billion Annually on Importing Meat and Vegetables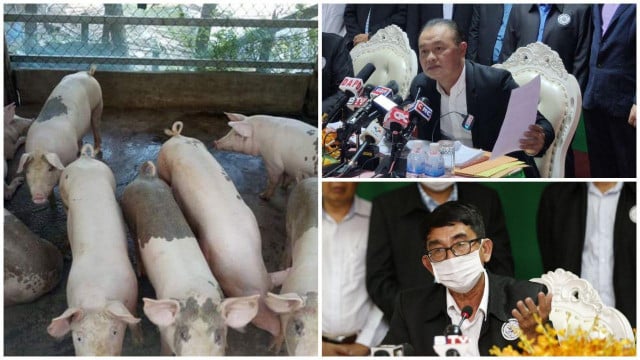 Phoung Vantha
May 25, 2020 10:44 AM
As local supply rises, the government hopes that it will soon be able to reduce the amount spent on importing live animals.

PHNOM PENH--The Cambodian Livestock Association on Monday (May 25) announced that Cambodia spends almost $1 billion annually importing meat and vegetables from neighboring countries. This, the association noted, mostly originated from Thailand, but with some vegetables being imported from China and Vietnam.

President of the Cambodian Livestock Association Srun Pov said that Cambodia spends almost $1 billion a year buying pigs, chickens, ducks and vegetables from neighboring countries.

Pigs made up a large portion of this annual expenditure, with Cambodia spending roughly $400 million annually to meet the demands of 8,000 pigs per day. As domestic supplies have risen, Pov noted that nowadays Cambodia only imports between 3,000 and 4,000 pigs per day.

On May 21, the government reduced imports of live pigs from neighboring countries by up to 70 percent to support local farmers in a bid to increase their production. Part of this may be connected to disruption caused by the Coronavirus Disease 2019 (COVID-19) pandemic, which has seen meat prices rise in Cambodia by 22 percent on average, going from 9,000 Khmer Riel per kilo to 11,000 Khmer Riel—although this varies from market to market.

Tan Sophannara, director of the animal health department at the Agriculture Ministry said that since February 18, 2020, measures introduced to restrict pig imports have led to significantly increased levels of pig farming domestically.

"As the plan is to use two to three years, we can meet the local demand, I say in certain circumstances if there is no outbreak of various diseases, especially the African swine fever virus," he said.

Cambodia spends over $200 million a year importing vegetables to supply the local market, according to the Ministry of Agriculture Forestry and Fisheries. The annual domestic demand for vegetables in 2020 is projected to be approximately 1,045,725 metric tons, although the production of domestic vegetables can meet some 68 percent of the demand, producing 716,113 metric tons annually.

Meanwhile, the ministry estimates that the total annual demand for meat sits at around 290,000 metric tons, of which 82,000 tons of beef and buffalo, around 153,000 metric tons of pork, 54,000 metric tons of poultry and some 165 metric tons of other meats.

The ministry went on to note that domestic production of meat is close to meeting demand, with Cambodia producing 89,000 metric tons of beef and buffalo, 103,000 metric tons of pork and 47,000 metric tons of poultry on an annual basis. This leads to the importing of roughly 574,000 live pigs, almost 6,000 live goats and roughly 6.91 million live chickens each year.
Related Articles