Cambodia, Timor-Leste Sign Flights and Rice Pacts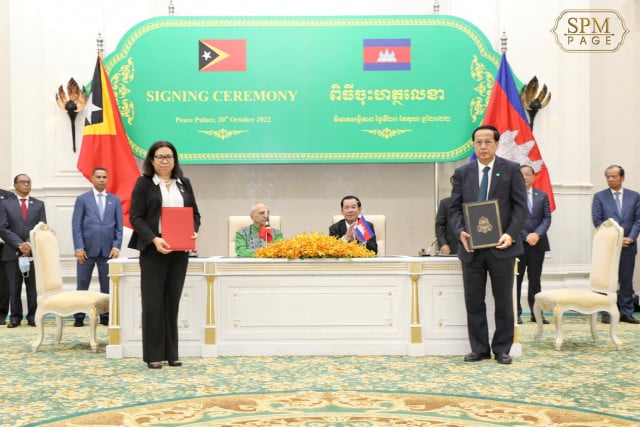 October 21, 2022 10:47 AM
PHNOM PENH – Cambodia and Timor-Leste have signed agreements in the fields of air services and trade as the countries seek to foster relations after 20 years of diplomatic ties.
The agreements were signed during the visit of Timor-Leste President Jose Ramos-Horta, who met Prime Minister Hun Sen on Oct. 20 at the Peace Palace.
Hun Sen wrote on Facebook that he welcomed the direct flights between the countries and asked for Timorese investment in the rice sector including rice mills and rice dryer machines to export directly to Timor. He urged the implementation of agreements between the governments and asked for a boost in cooperation on education and national security.
Ramos-Horta told the PM he wished to expand and strengthen the friendship and cooperation between the countries through direct flights and trade promotion.
During his stay, the president had an audience with King Norodom Sihamoni and met Senate President Say Chhum and President of the National Assembly Heng Samrin. He also met Hun Sen's son and prospective successor Hun Manet on Oct. 19.
Ramos-Horta's visit came three weeks before the ASEAN Summit in Phnom Penh during which Timor-Leste's membership to the regional bloc will be discussed. Hun Sen has previously announced Cambodia's support for Timor-Leste's application and hoped that Timor-Leste can become the 11th member next year.
Jose Ramos-Horta is due to leave on Oct. 21.
Related Articles