Cambodia to Approve the National Policy on Cashew Nuts by 2022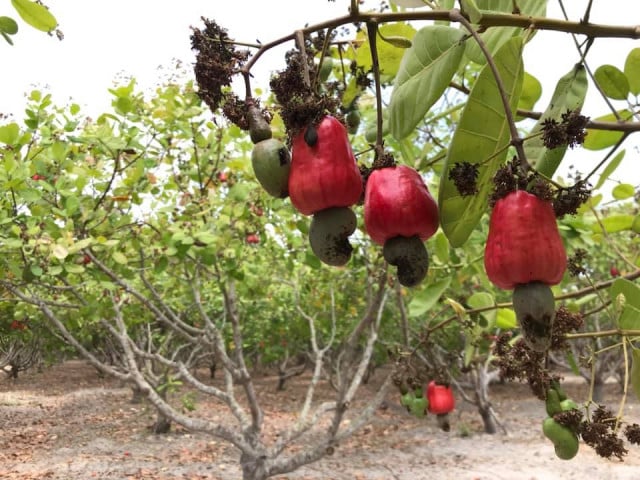 While cashew exports are growing, the lack of in-country cashew processing facilities is costing Cambodia millions each year and experts blame high electricity costs for scaring away investors
PHNOM PENH--The National Policy on Cashew Nuts, which has been drafted by the Ministry of Commerce to boost the cultivation and export of cashew nuts to international markets, is likely to be officially approved by the end of 2021, said Pen Sovicheat, spokesperson for the Ministry of Commerce.
Sovicheat said that the preparation of the draft national policy on cashew nuts required input from numerous ministries or private institutions, particularly from farmers, processors, and exporters.
Through the National Policy on Cashew Nuts, he said, Cambodia will be a major supplier of cashew nuts in the region to serve the local, regional and global markets. The policy, he added, will make Cambodia's cashew processing production competitive in both yield and quality.
"The adoption of this National Policy on Cashew Nuts will increase the value of cashews in terms of value chains and production chains," he said. "It will increase the value of farmers and processors and create competitive advantage as well as market diversification."
President of the Cashew Nut Association of Cambodia Uon Silot said he supported upcoming the National Policy on Cashew Nuts as he hoped it will support the cashew production chain and generate further income for farmers and stakeholders.
He continued, investors will also be attracted to establish cashew processing factory in Cambodia, as it is now the number one grower of fresh cashew nuts for export.
"Cambodia grows a lot of cashew nuts. If we have a processing factory that can meet the number of fresh cashew nuts, it will make a difference in the cashew production sector. So, the farmers will receive more value and be able to improve their lives," said Silot.
Silot said Vietnam is the largest importer of Cambodia's cashew nuts Vietnam imported 795,004 tons of cashew nuts—worth some $2.8 billion—from Cambodia in the first five months of 2021 and is considered the world's largest exporter of processed cashew.
Minister of Agriculture Veng Sakhon said this was almost all of Cambodia's cashew exports, which totaled 800,000 tons and were valued at $2.9 billion for the first five months of 2021.
According to the Vietnam Cashew Association (Vinacas), it was the largest import volume ever recorded from Cambodia, compared to 216,300 tons imported during the same period in 2020 and just 175,000 tons imported from Cambodia in the whole of 2019.
But while the exports of Cambodian cashews has skyrocketed in recent years, added value is constantly being lost due to the lack of cashew processing capacity in Cambodia, meaning it can only export fresh cashew nuts that are processed in their destination countries.
"We should show our potential, for example we can gather farmers to supply raw materials," said Kong Peach, director of the Agro-Industry Department at the Ministry of Agriculture. "Our cashew nuts taste good and are high quality compared to others, but we must address weaknesses like the high cost of electricity, then we should be able to attract more investment."
Peach went on to say that, annually, Vietnam takes around 60 percent of Cambodia's cashew nut exports, which are typically produced by five medium-sized companies—each of which produces roughly 200,000 tons each year, he said, cautioning that these figures were estimates only.
But already diversification is beginning among the cashew farms.
On June 13, In Lay Huot, who owns of Chey Sambo Cashew Nut Handicraft in Kampong Thom Province, successfully exported more than 9,000 tons of semi-processed cashew products to the Japanese market.
She is now working to promote her processed cashews as there is more money to be made in exporting semi-processed goods rather than raw materials.
"I am currently observing the market and looking for more funds to expand the cashew procession from 10 tons per month to 20 tons per month to meet the market demand," said Lai Huot.
Currently, more than 500,000 hectares of Cambodia's land is dedicated to cashew cultivation across 10 provinces.
A report from the Cashew Nut Association of Cambodia shows that Kampong Thom Province has the largest cashew plantation of 90,959 hectares, followed by Kratie Province with 47,858 hectares.
Ratanakiri Province has 30,459 hectares; Kampong Cham Province has 24,364 hectares; Siem Reap Province has 22, 305 hectares; Preah Vihear Province has 16,971 hectares; Stung Treng Province has 16,164 hectares; Tboung Khmum Province has 8,334 hectares, Mondulkiri Province has 5,676 hectares and Kampong Chhnang Province has 2,123 hectares of cashew plantation.
Additional reporting by Teng Yalirozy
Related Articles