Cambodia to deploy over 12,000 security forces for upcoming ASEAN summits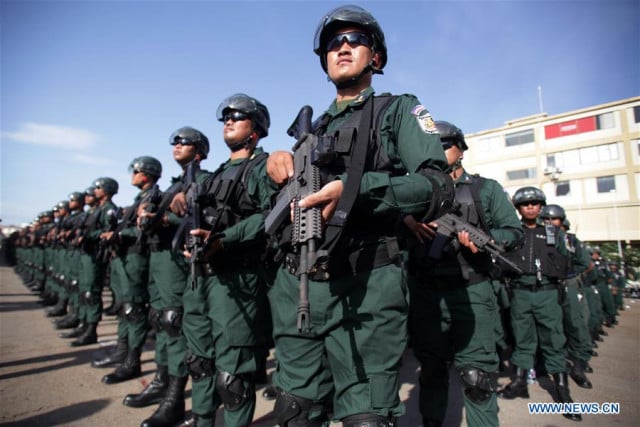 PHNOM PENH -- Cambodia will deploy more than 12,000 security forces to maintain security and public order during the upcoming ASEAN summits and related summits, Deputy National Police chief and spokesman Lt. Gen. Chhay Kim Khoeun said on Thursday.
The 40th and 41st ASEAN summits and related summits will be held from Nov. 11 to Nov. 13 in the capital Phnom Penh.
"Security is the top priority for us. We are ready to deploy more than 12,000 security forces to ensure security and safety for all foreign leaders, who will come to Cambodia for these summits," he told Xinhua. "We will do our best to ensure the smoothness and success of these summits."
In a recent interview with Xinhua, Kao Kim Hourn, a minister attached to the prime minister of Cambodia, said the forthcoming summits will be strategically important, not only for Cambodia as the ASEAN chair for this year, but also for the whole ASEAN as well as its dialogue partners.
Kim Hourn, who will take over the post of ASEAN Secretary General from January 2023, said post-pandemic economic recovery efforts, security issues such as the Korean Peninsula, rising global oil and food prices, and climate change, among others, will be discussed during the summits.
"This is a very critical time because Cambodia will be not just on the regional map, but also on the global map, as we steer and navigate all of these challenges," he said.
ASEAN (the Association of Southeast Asian Nations) groups Brunei, Cambodia, Indonesia, Laos, Malaysia, Myanmar, the Philippines, Singapore, Thailand and Vietnam.
Related Articles