Cambodia to Erect A Series of Win-Win Monuments in the Country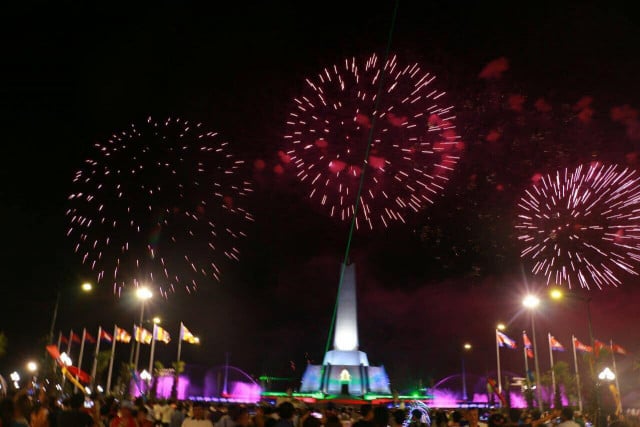 Phoung Vantha
May 22, 2020 7:05 AM
They will be built in provinces marked by government victories over the Khmer Rouge

PHNOM PENH--The Cambodian government has announced the construction of several "Win-Win" monuments in the country including in Oddar Meanchey, Pailin, and Kompong Speu provinces.

General Nem Sowath, director-general of the National Defense Ministry's General Department of Policy and Foreign Affairs, said in interview on May 21 that they will be called memorials instead of monuments as they will be smaller than the Win-Win Monument in Phnom Penh.

Those memorials will commemorate the Cambodian government's win-win policy and its victory over the Khmer Rouge who were based in those areas, Sowath said. "The construction of a win-win political memorial is also a historical one for all Cambodians," he said.

And there will be more memorials built, Sowath said: The government plans to erect others in provinces with a history of defeating Khmer Rouge forces.

Asked about the costs of those memorials, he said that he could not provide information on this but that the money would not come from the government budget.

The first memorial to be built will be in Koh Kong Province, Sowath added.

A ceremony was held in Koh Kong Province on May 18 to mark the creation of a subcommittee for the construction of the memorial under the presidency of Interior Minister Tea Banh who chairs the national win-win memorials' committee.

According to the Ministry of National Defense website, Banh said during the ceremony that the memorial in Koh Kong Province will serve as a model to help design memorials in the other provinces.

The Ministry of National Defense indicated at its website that the memorial in Koh Kong Province will be built in the form of the Win-Win Monument in Phnom Penh. It will be 43-meter high on a mountain and located in Boeung Khun Chhang village, Sangkat Smach Meanchey, Krong Khemara Phoumin.

The Win-Win Monument in Phnom Penh stands 54-meter high and consists of 29,000 square meters of marble, 15,000 square meters of concrete and 3,000 tons of steel. Built in a "modernist Khmer style," construction started in February 2016 and ended in 2018.

Prime Minister Hun Sen said that the Win-Win Monument cost $12 million. He hailed it as a joint achievement by all Cambodians.


Related Articles