Cambodia to launch a high-skilled worker training program with ADB loan funding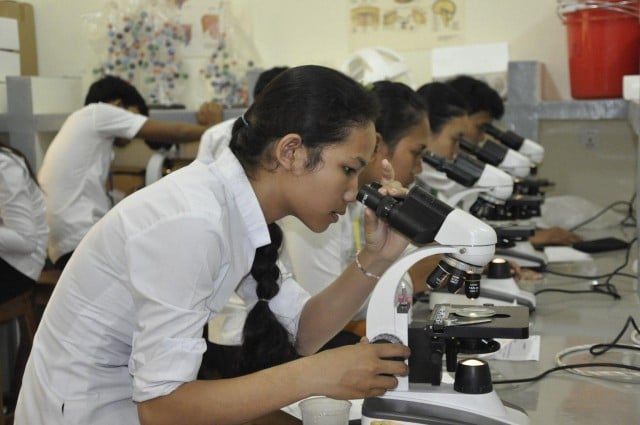 Thmey Thmey
June 26, 2019 3:16 AM
The five training institutes across Cambodia to be involved in the project
PHNOM PENH--Cambodia has obtained a $60 million loan from the Asian Development Bank (ADB) that will be used to improve the skills and competitiveness of the country's workforce.
According to an ADB press release obtained Tuesday, the loan is meant to help the government "transition its economy from a low-skilled, labor-intensive growth model to a skills-driven one."
As Yumiko Yamakawa, ADB's education specialist for Southeast Asia, said, making this transition requires a highly-skilled labor force to support the country's rapid economic growth.
"The ADB loan will focus on improving the skills of workers employed in high-growth sectors to fuel the country's development," she said. "We are also making sure that all stakeholders, especially the government and the private sector, work together to boost workers' skills."
This will involve upgrading the facilities and equipment of selected technical training institutes (TTIs) across the country, improving their programs and expanding their teachers' skills.
Today, technical and vocational education and training programs do not meet the demands of Cambodia's labor market, the ADB's press release said. The business sector has difficulty finding skilled employees to fill technical roles, contributing to Cambodia's economy ranking 110th out of 140 economies in the 2018 Global Competitiveness Report.
Cambodia's Skills for Competitiveness Project, which this loan will help support, is expected to help train 18,000 qualified technicians—28 percent of them being women—so they have higher employability and technical skills in four priority sectors: manufacturing, construction, electricity, and electronics.
"The project would also provide upskilling and reskilling opportunities for existing workers to address skills gaps and skills shortage in the industrial sector through work-based learning programs," the release said.
"This will be done by strengthening five [training institutes] around Cambodia, including the upgrading of 16 new training facilities with gender-sensitive, inclusive, and energy-saving design features like separate dormitory floors and toilets for women; providing advanced and industry-grade training equipment; building capacity of trainers; and providing merit-based stipends to selected students," the release said.
The five training institutes involved in the project are the Battambang Institute of Technology, the Institute of Technology of Cambodia, the National Polytechnic Institute of Angkor, the National Technical Training Institute for TVET Park, and the Regional Polytechnic Institute Techo Sen Svay Rieng.
Related Articles
November 28, 2021 9:53 AM