Cambodia to Officially Mark the Death of Prince Norodom Ranariddh on December 8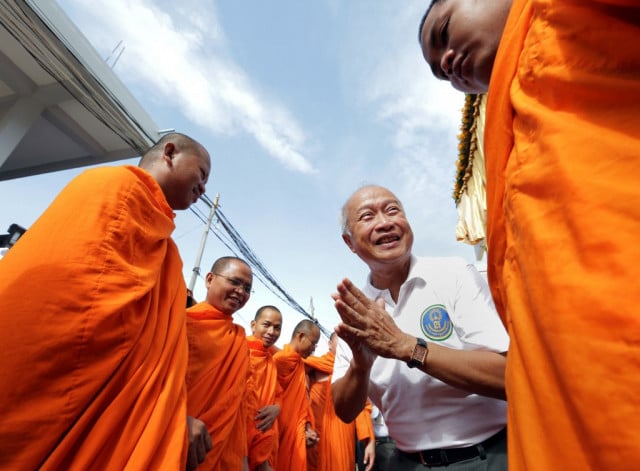 The country is to hold a national day of mourning to honor the prince
PHNOM PENH-- The Cambodian government has designated Dec. 8 as the official day of mourning marking the death of Prince Norodom Ranariddh, president of the Funcinpec political party and the half-brother of King Norodom Sihamoni.
The Cambodian authorities have instructed ministries, institutions, schools, public and private hospitals, government officials, the armed forces, pagodas as well as people across the country to raise the flag halfway up the pole on Dec. 8, 2021.
All national and private radio and television stations must suspend performances and broadcast of specials on the day of mourning, the Cambodian government said in an official message posted on King Sihamoni's Facebook page.
In its message, the Cambodian government stressed that Prince Ranariddh, who was chairman of the Supreme Council of King Sihamoni, had made an important contribution to the nation, religion and the king.
Prince Norodom Ranariddh passed away at the age of 77 on Nov. 28 in France at 3:40 pm, Cambodia time, due to a chronic disease. Chap Nhalivuth, Prince Ranariddh's half-brother, said he had been sick since a car accident that took place during the political campaign for the 2018 national elections and in which he had been critically injured.
The body of Prince Ranariddh is due to arrive in Cambodia at 11 am on Dec.5, 2021.
Venerable Heng Boy, a monk at the Odong Pagoda in Kampong Speu Province, said that, as a Cambodian, he felt saddened by the loss of Prince Ranariddh, a respected person of Cambodia who was involved in politics and was willing to play a role to rebuild the nation. Prince Ranariddh had served as first prime minister following the national elections of 1993 held after the signing of the Paris Peace Agreements in 1991, which had officially put an end to war in the country.
"I feel happy that he did these things, and sorry that he has passed away," Boy said.
Veng Pheakdey, a student at the Royal University of Phnom Penh whose home is Kampong Cham Province, said he felt sorry by the loss of Prince Ranariddh who, during this lifetime, had built schools and hospitals, especially in the area around his hometown of Kampong Cham as he has learned through reading and his own observation.
Pheakdey, who said he respects and loves the royal family, added that the prince had strived to rebuild the country when he served as first prime minister although his tenure was short. This has been his contribution to the country, he said.
"I feel sorry and may his soul rest in peace," Pheakdey added.
Related Articles