Cambodia-Turkey Seek Trade Boost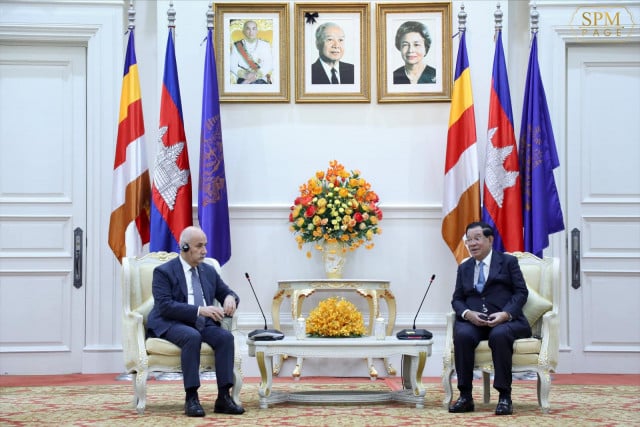 PHNOM PENH – Cambodia and Turkey aim to boost trade volume to $1 billion a year, eyeing cooperation in sectors including agriculture and scholarships for Cambodian students.
On Jan. 11, PM Hun Sen and Vahit Kirisci, Turkish Minister of Agriculture and Forestry, met at the Peace Palace in Phnom Penh.
Kirisci's visit is to expand cooperation, especially to promote the implementation of previously signed agreements.
Kirisci said that Cambodia and Turkey have great potential for cooperation, such as boosting mutual trade to $1 billion a year.
Areas of cooperation include agriculture, such as processing farm products for export, aquaculture, and agricultural machinery.
Turkey also sees potential cooperation in construction, IT, food processing and halal food, education, scholarships for Cambodian students, direct flights from Turkey to Cambodia and many other fields.
Hun Sen encouraged Turkish investors to invest in Cambodia by installing machines for processing, building warehouses, and setting up a market network between theo countries.
For the first ten months of 2022, trade between the countries was worth about $113 million with $19.5 million in exports to Cambodia and $94.21 in imports, according to the Turkish Statistical Institute.
In 2021, the trade volume reached $88.1 million while the volume was $88.3 million in 2020.
Textile goods such as yarn and fabric, grain ingredients, motorized road vehicles, pharmaceuticals, general industrial machinery and equipment, raw fertilizers, processed leather and stout leather, petroleum products, sugar, metal goods essential oils, and electrical machinery and components are among Turkey's top exports.
On June 2022, the Agreement on Mutual Promotion and Protection of Investment that was signed during Hun Sen's visit to Turkey in 2018 came into effect.
The Agreement on Avoidance of Double Taxation, which was signed in February 2022 while Deputy Prime Minister Prak Sokhonn was in Turkey, is about to go into effect, according to Turkey's Ministry of Foreign Affairs.
Diplomatic relations between Turkey and Cambodia were established in 1959 with the Turkish resident embassy established in Phnom Penh in 2013, paving the way for real advancements in ties and increased collaboration on the global stage.
The Embassy was officially inaugurated in 2015 while the Embassy of Cambodia in Ankara was established in 2020.
As of 2020, Cambodia was home to 350 Turkish nationals. There are 39 Cambodians living in Turkey.
Turkey mainly imported garments, footwear and travel products as well as grain ingredients, organic chemicals, power-generating machinery and components, and general industrial machinery and component.
Between 2009 and 2022, the Turkish Cooperation and Coordination Agency successfully completed 15 development projects in Cambodia.
While roughly 1,000 Cambodian tourists visited Turkey before the COVID-19 pandemic, the number of visitors has significantly decreased as a result of travel restrictions in 2020 and 2021.
Related Articles